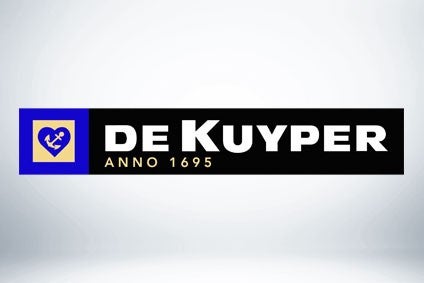 Next month sees Just Drinks' sister company, Arena International, host the 'Spirits Strategies & Innovation' conference in London. In the run-up to the two-day event, we hear from one of the speakers, De Kuyper Royal Distillers' global marketing director Albert de Heer.
Just-Drinks: What's your history with De Kuyper?
Albert de Heer: I've been with them for 12 years. My responsibility is for the global liqueur brands – There's De Kuyper, obviously, then we have our premium liqueur portfolio, which includes Cherry Heering and Mandarine Napoleon. We've developed quite a lot of products in the last couple of years: We worked together with bartenders on 'Bartender Editions', which includes the Muyu concept, Acqua Bianca and Dutch Cacao.
I'm also responsible for marketing the company's innovations.
We're a small company if you compare us to Diageo or Bacardi, but that's an interesting aspect. We can go quickly to market with short lines.
JD: It's been six years since Mark de Witte became CEO.
AdH: It's been a fun ride since Mark joined the company. There has been an immense change. It used to be very much focused on sales and production. Mark came from Bacardi, so is way more about marketing. We're still family-owned, since 1695! Up to now. it's been a very dynamic time.
JD: What's De Kuyper's sales split, domestic [The Netherlands] to international?
AdH: For our owned portfolio, it's around 85% international to 15% domestic.
JD: Which international markets are performing well?
AdH: Europe is recovering quite well – The UK, Germany and Italy are looking positive. The headaches are coming from Asia at the moment. Japan is going very slowly. We've seen some pre-ordering, so there are some positive signs. Peachtree [De Kuyper's peach liqueur brand] is important for us in Japan.
Korea is also very slow. China seemed to be getting up to speed, but I don't get that feeling.
JD: De Kuyper's portfolio is very reliant on the on-premise. What was last year like?
AdH: During the lockdowns, we really saw the shift from on- to off-trade. In recent years, however, our presence in the off-trade has grown.
As people started to make cocktails at home, we saw that in our sales as well. Our turnover shifted by around 75 to 80%. There was only a small part that didn't make up for the loss of the on-trade. We didn't need any support from the government, there was a shift and we could still do business in that respect.
JD: How have De Kuyper's priorities changed as a result of the last 18 months?
AdH: We already wanted to move more to the off-trade to try to balance the business. Six years ago, we started a new strategy where we said we want to own the cocktail, both in the off-trade as well as in the on-trade.
We make products that position cocktails more accessibly to consumers at home, like RTDs – canned cocktails. We still kept bartenders in mind with our premium liqueurs.
We work with partners in different countries, like [distribution arrangements with] Pernod Ricard in Italy, William Grant & Sons in the UK and Beam Suntory in Germany. These companies are focused on selling large volumes of strong spirits to consumers. In the past, most of the time they thought: Why the hassle? But, demand is so high they also started to see an opportunity.
Our strategy was not aimed at dominating one channel, we also wanted to go for the home consumer. That's how we've developed for the last six years. Our partners started to understand – in the past, we had all these flavours and they thought it was too complex. I agree with them! As a marketeer, I had all these products.
We started to focus on fewer products – we went from 48 liqueurs to 28 without losing any volume.
JD: What opportunities are there to strengthen your partnerships with these spirits brand owners?
AdH: Cross-selling is a learning we've had for a long time. We have a lot of research on that, especially in the US. It's a really important thing.
JD: How does that translate to 'owning the cocktail' in the off-trade?
AdH: It's about gondola ends and cocktail recipes. To be honest, it's easier than in the on-trade, where the bartender often wants to decide for themselves which Bourbon to use!
JD: Isn't there a difference between 'owning the cocktail' and 'owning the premix cocktail'?
AdH: We want to democratise cocktails. About 15 years ago, when you talked about cocktails, it was a lot of high noses, going to cocktail bars and dressing up. We want to make them more accessible – that doesn't mean that one is right and the other is wrong.
What happens is that people get into the cocktails then trade up later on: from EUR5 for a beer to EUR8 for a gin & tonic then again for a more high-end cocktail.
The canned cocktails are the starter – that's the philosophy.
JD: With your length of service, you must find it quite hard dealing with RTDs.
AdH: We've seen them already! They've gone up and they've gone back down. But, if consumers want it, then why not give it to them? My biggest struggle has been with the no- & low-alcohol trend: It's like a vegetarian butcher! Are spirits brand owners the ones to come up with these things? Should there not be other companies doing this?
My other question about no- & low- is: What are people looking for? Is it the replacement of alcohol or is it to skip an alcoholic drink?
In the end, though, it's the consumer that decides where we are going.
JD: How is Warninks Advocaat? Dusty?
AdH: You'd be surprised: It's doing very well! There was a big dip in around 2012, but then [UK TV chef] Nigella Lawson mentioned Warninks and it bumped sales in the country by around 20,000 nine-litre cases! Currently, we're hovering at around 85,000 cases a year. All sales still happen in December.
We also introduced the canned snowball and we're aiming at getting to 110,000 cases this year in the UK.
I know a lot of consumers our age know Warninks, but it's still relevant today.
JD: How do you make Warninks relevant to younger LDA consumers?
AdH: It's the snowball. It's a very easy-going drink for all ages and so familiar. We have a perfectly positioned product that is loved by many people at the end of the year.
Albert de Heer will present a session at the 'Spirits Strategies & Innovation' conference in London, on 20-21 October. For further details of the event, click here.