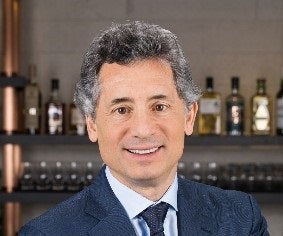 What did you learn from your consumers this year that surprised you?
The resilience of our business and the way our brands remained top of mind with consumers throughout the pandemic. While we saw a huge pull to known, loved brands in 2020, we saw a desire to indulge in everyday luxuries in 2021. We learned that consumers are still looking to experiment and explore new brands. It's only strengthened my confidence in our premiumisation agenda and long-term business goals.
What have you seen in 2021 that you expect to continue into 2022?
We've seen a return to the on-premise that was much faster than anticipated in many of our markets. People are eager for more human connections and we expect that trend to continue.
At the outset of the pandemic, we said that we would not cut any jobs, and our on-premise sales teams kept working, supporting their trade partners, and they forged even deeper relationships than before. We believe that we can keep building on that work in 2022.
How are you feeling about 2022?
Our products bring people together, so we see 2022 as a huge year for our business as we continue to emerge from the pandemic.
We're just completing our second year with a new global operating model that underpins our premiumisation ambitions, and 2022 will be a pivotal year for us in terms of work from our global brand houses and locally-relevant activations that truly drive premiumisation for our brands.
This will also be the year when the rubber hits the road for the growth platforms we've been investing in, particularly in RTD and digital, as well as strategic investments in capacity and our 'Proof Positive' sustainability agenda.
What's going to keep you awake at night in 2022?
The past two years have taken a toll on all of us, regardless of where you live and whatever your personal circumstances. We're also undergoing our own transformation as a business, and the acceleration of market trends in the midst of the pandemic has been exponential.
What's keeping me up is how to balance and sequence the right amount of change required to keep pace with the market against what our organisation can handle in the current environment.
What are your and Beam Suntory's target for next year?
As a private company, we don't publicly disclose our annual targets. What I can say is that we have declared an ambition to be a US$10bn company by 2030, driving growth primarily from premium brands.
We view 2022 as a big step in that direction.