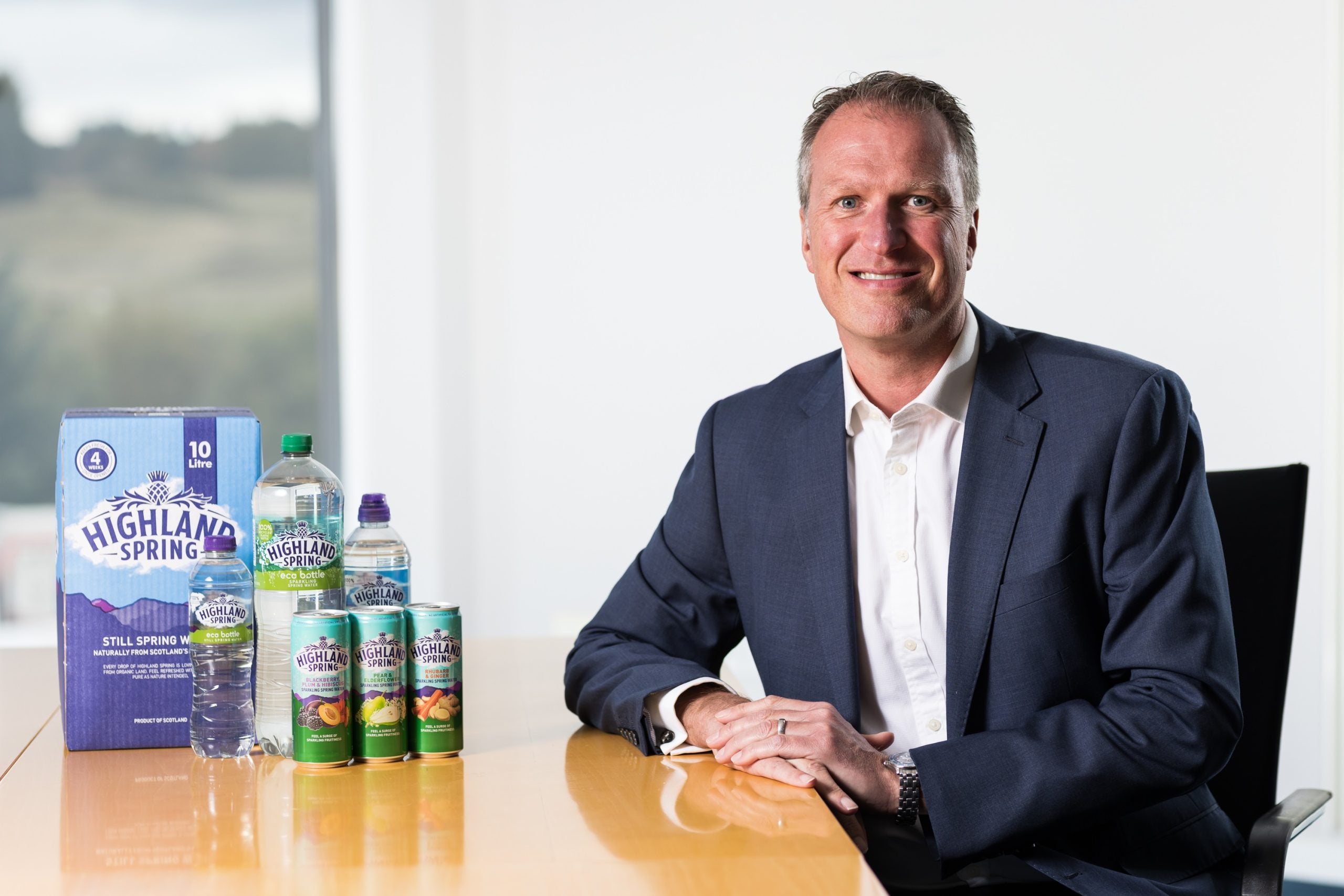 Simon Oldham has worked at Highland Spring for 13 years and, earlier this year, was made the UK bottled water company's sole managing director.
Oldham, who had been joint MD for two years, has taken charge of a business that appears to have navigated the pandemic well, given its position as, in part, a supplier of convenience and on-the-go products.
The former Procter & Gamble and Whyte & Mackay executive talks to Just Drinks about Highland Spring's growth plans and, crucially for a waters and plastic-centric business, its sustainability strategy.
Just Drinks: Highland Spring has recently announced your appointment as the company's sole managing director. What's your vision for the business?
Highland Spring MD Simon Oldham: The first one is continuing to do what we've been doing, which is growing our share in a really resilient market. Our category is, in the UK, an extremely resilient category. Last year, looking at the top 15 categories in grocery, water was the seventh-fastest grower and one of the very few that was in volume growth – and we've got a 15% market share. So, first off, there's loads to go at. There are also a lot of initiatives that we're doing as part of our commitments towards sustainability.
JD: Do you think it's a competitive advantage for a brand and a business to become more transparent in what they're doing in all areas of ESG?
SO: Yeah, I do because consumers now look under the bonnet of cars. They really get under it. Some more than others but they want to know that the product they're drinking, the supplier they're buying from, they can trust. I don't think that's ever more important than in a category like naturally sourced waters.
Is it a competitive advantage? Yes. Would it be a competitive weakness if you weren't doing the right things? Yes. We came out quite early on. We stated our target, which is to be net zero by 2040. We'll halve our emissions by 2030.
How well do you really know your competitors?
Access the most comprehensive Company Profiles on the market, powered by GlobalData. Save hours of research. Gain competitive edge.
Company Profile – free sample
Thank you!
Your download email will arrive shortly
Not ready to buy yet? Download a free sample
We are confident about the unique quality of our Company Profiles. However, we want you to make the most beneficial decision for your business, so we offer a free sample that you can download by submitting the below form
By GlobalData
JD: Is that a target or is it more of an ambition? Some of the wording from different companies can mean different things. Have you got a target to cut your emissions in half by 2030?
SO: On net zero, which is now validated by SBTi, the absolute numbers are we will be at [a] 50% [reduction] at Scopes 1 and 2 and 46% on Scope 3.
JD: How are you looking to tackle your Scope 3 emissions?
SO: That's the harder one. The three biggest buckets I guess are packaging, upstream and downstream transport. We've gone live with our rail siding earlier this year. That's a massive part of any plan in CO₂. Our lorries that we're using, half of them are now HVO and the plan is to roll that out. Things like forklifts have moved to electric from gas. Transport's a big one.
JD: On packaging, the company has a target to use only rPET for its Highland Spring product range by 2025.
SO: We're looking to roll out rPET. The [Scotland] deposit return scheme has gone back. That was an enabler. 2025 is the ambition. I think if the deposit return scheme goes live in 2025 as expected then, by the end of 2025, we should have much better recyclate coming through but that one [target] is predicated on having good quality, good quantity and commercially viable products.
And then also working with our packaging suppliers as well, looking at lightweight, looking at recycled materials and also what are suppliers doing to make sure their own supply chain and value chain is moving in the right direction.
JD: Circularity Scotland, the company that oversaw Scotland's deposit return scheme (DRS), has entered administration. Highland Spring is among the companies owed money. Is Highland Spring looking to recoup the money?
SO: As yet, we have not taken any decisions or actions but we'll continue to monitor the situation.
JD: About DRS generally throughout the UK: is the company still working on the basis each of the schemes will go live in 2025?
SO: We are long-term supporters of the introduction of an efficient and effective deposit return scheme to improve the collection and recycling of drinks packaging into new bottles and cans. We remain committed to working towards the proposed go-live of October 2025, with the UK and devolved governments. However, the scheme must be aligned and interoperable across all four nations to minimise the costs and complexity for consumers, producers, and retailers – and meet its environmental goals to accelerate the UK's circular economy.
JD: What are your thoughts on the delay to the UK's Extended Producer Responsibility (EPR) scheme, under which producers pay for the cost of recycling their packaging?
SO: We believe the proposed delay is sensible as it is vital that more time is spent on developing an effective EPR scheme that will make a meaningful difference to recycling rates in the UK – and ensures a steady supply of recyclable material that can be reused for producers and retailers future packaging.
JD: The emissions impact of plastic versus alternative forms of packaging is a topic of debate. Highland Spring has added can formats to its portfolio.
SO: It's a hobby horse of mine. The conversation in recent times has been very focused around plastic. No-one hates seeing littering more than I do and we all have a role to play in that. DRS will undoubtedly help that. That takes away the litter piece.
Once you take that away, or once you're doing things to encourage recycling in the meantime, then the argument has to be the more strategic argument, the big argument, which is: what are you doing towards net zero? Climate change is the big thing. Once you start that debate, there are different packaging materials that suit better occasions. If people want a glass bottle on a table, that's fine. If people want to use a refill, we've got a solution for that with our ten-litre or five-litre bag-in-box. Again, that's fine.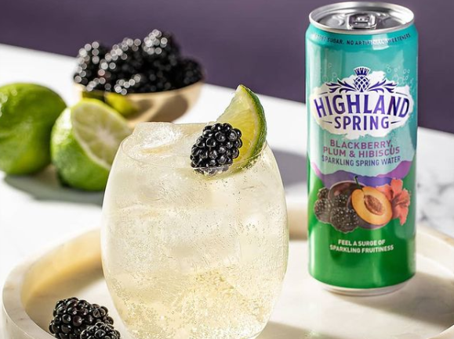 But ultimately, when you look at CO₂ footprints, that has to be in the debate in the future. Water first of all has the lowest carbon footprint of any product. The carbon footprint of water is 15 grammes per litre. Carbonated soft drinks sits at 18, juice drinks is 140.
From a carbon point of view, water is the best product and is the healthiest product. In terms of packaging materials, PET – and, in particular, recycled PET – [has a] low carbon footprint, completely recyclable, safe. It doesn't have any taint, convenience, [it's] lightweight. We buy preforms and blow our own bottles, the equivalent of a shipping container full of glass bottles. That's the debate I want to start having people and, whether that's consumers, whether it's retailers, whether it's caterers, that's not a debate that is well understood at the minute.
JD: The water category is seeing increased scrutiny. Retail Economics has called for curbs on advertising and a tax on multipacks, arguing: 'We need a world without plastic bottled water.' What's your reaction to that?
SO: If you take bottled water away, people aren't going to stop drinking. You go into a retailer at lunchtime, you want your meal deal. You're going to buy something in potentially worse packaging that's full of sweeteners, or full of sugar, or is of a high-fat content, or has got caffeine in it.
We talk about our purpose being healthy hydration in an environmentally sustainable way. Healthy hydration is something we should all be talking about. I don't understand why you would do anything that would steer people into substitutes. Commercially it's good for retailers to be selling water but you … give people choice. If that means there's a refill option, fine, that's OK. People prefer the taste, they trust the purity of natural-sourced waters, so why would you remove that?
A big part of it is about understanding. Some of the imagery and some of the language used is very emotive. Facts are what need to be out there and then people can make their choices but removing the choice doesn't feel like the right answer for me.
JD: What about the debates around carbon-neutral claims? Highland Spring has carbon-neutral targets within its ESG strategy. Some companies are moving away from such targets.
SO: The absolute focus and the priority investment will all be around carbon reduction. Yes, we are carbon neutral but the amount is a small amount. I think on that basis it's okay. Where it's more questionable is where people are trying to make out they're something they're not really.
Environmental sustainability has always been right at the core of what we do. If it's something that helps validate your position in sustainability, that's fine. If you're using it to create news for the sake of creating news, then that's not fine.
To become net zero, you've got to get down to at least 90% of the reduction in your CO2. There will always be a place for some carbon offsets but it should be a small part.
JD: The most recent accounts Highland Spring has filed at Companies are for 2021. Turnover, operating profit and net profit rose. Did the same happen in 2022?
SO: I can't share any of those details at the minute. What I can say is that if you look at the market data, we grew and we grew strongly ahead of the category. We saw market share growth, with volume and value growth.
JD: What percentage of the business now is the Highland Spring brand versus private label?
SO: Our number one priority is the brand. The absolute number now I think is around 80:20. We have some really good partnerships on own label but the brand is the jewel in the crown.
JD: Which of the consumer habits that developed during the pandemic have stuck?
SO: I don't think anything's stuck. There's so much change. More online shopping than there was pre-pandemic but not at the level it was in the pandemic. People drank more sparkling, there were more meals in the house, more family occasions. That's dropped back a little bit but it's back in growth again now. I think people are getting out and about again. We saw a mix change from small bottles into big with people at home more. That's recovering but there's still less people travelling on the roads and on the trains every day.
JD: Those 2021 results suggest you navigated the pandemic successfully.
SO: I was at an event recently and [Co-op chair, former Asda CEO] Allan Leighton was speaking. One of the words he said was 'radar'. He said leaders need to be looking at the radar, looking at what's out there, what's on the horizon. That was something that I think we were very good at.
We talk a lot in the business about how there's so much change going on and not to waste time trying to change things that are out of your control. If you do that, you're focused, you're agile, and you're looking long term out – you get things wrong, of course, you will – but, trying to think about the future, then you might get eight out of ten right.
JD: What's on your radar, as you look at the next two or three years?
SO: There's a lot of things. One of the partnerships we've taken up recently is with [UK sales and marketing company] SHS. There are definitely opportunities for us as a brand, as a business generally, in the impulse and out-of-home channels. People are now going out again, not maybe quite to the level they did previously, but people are starting to go out, maybe slightly differently, maybe more local. How do we make sure we're available and we're interacting with those outlets. That's a driver for us.
This article initially appeared in the August 2023 issue of Just Drinks' quarterly digital magazine