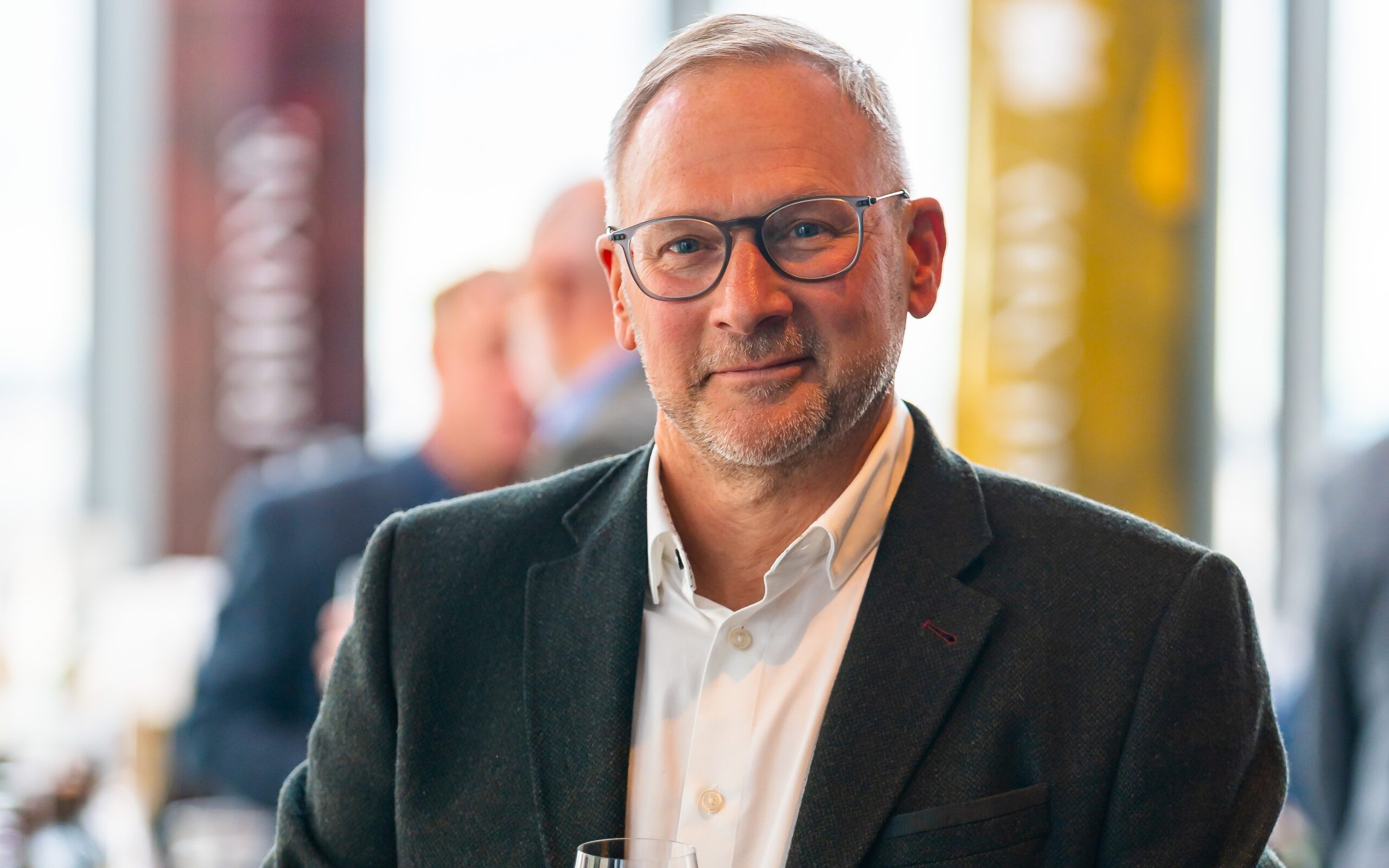 Sixteen stories high with a view across London's Southbank and the Thames, Les Grands Chais de France (GCF) filled an entire floor with the "best bits" of its portfolio earlier this month.
The tasting marked the UK launch of the wine group's on-trade Signature Range, a selection of 22 properties "selected for winemaking excellence". But the French-headquartered company has far more going on behind the scenes. Just Drinks caught up with UK managing director Mark Kears in a quiet corner of the tasting to hear more.
GCF's range stretches from the classic French regions of Bordeaux and Burgundy to blockbuster brands like Calvet, to pet-nat and Hungarian orange wine. Sparkling is a huge focus, and Kears says he sees huge potential for crémant – a sparkling wine made in the same method as Champagne.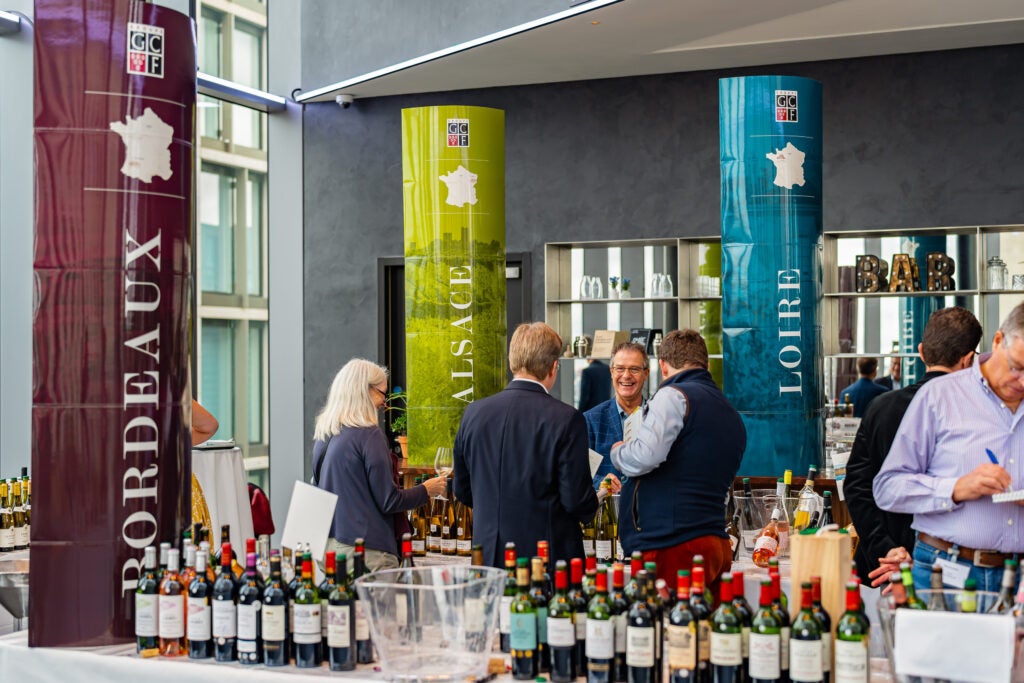 The company has led the way in meeting demand for non-alcoholic beverages, creating sparkling wine and spirit alternatives. Kears sees a "gaping gap" in the on-trade market for non-alcoholic still wines, too. Focussed mainly on France, the company is also looking to expand internationally, with recent acquisitions in South Africa and Chile.
Just Drinks: The UK is a huge market for GCF. What's your strategy there?
MK: We're about 25% of the market of all French exports into UK (not including Champagne). In terms of strategy, brand is four-square and centre. It's not just a brand like Calvet (regional France) or Aresan (Castilla-La Mancha, Spain), for instance. It's as much a brand around our properties, the chateaux and domaines that are in the group.
We're precious about brands within the off-trade where we've got Nozeco, Calvet and all those bigger-branded entities, which are mainly appropriate for the retail environment or online environment.
How well do you
really

know your competitors?

Access the most comprehensive Company Profiles on the market, powered by GlobalData. Save hours of research. Gain competitive edge.
Company Profile – free sample
Thank you!
Your download email will arrive shortly
Not ready to buy yet? Download a free sample
We are confident about the unique quality of our Company Profiles. However, we want you to make the most beneficial decision for your business, so we offer a free sample that you can download by submitting the below form
By GlobalData
Our on-trade is deeply about property and chateaux portfolios. That point of difference is what gives us, I think, the edge in the on-trade (for the wholesale networks, the wine merchants, the wine independents). They've got their own repertoire that reflects as much about our winemaking excellence and knowledge into the regions and terroir as anybody to be honest with you.
JD: Given the current economic climate, is it the right time to launch a premium-end line like the GCF Signature Range?
MK: The markets always evolve in whatever shape or form and there will always be clients who are looking for that premiumisation, irrespective of the economic crisis. Internationally, the economic crisis is affecting different markets in different ways, and this is an international message.
But it's not forsaking some of the value propositions that we've got in the portfolio. There are plenty of other elements within that portfolio that cater for those value propositions in the market in this kind of crisis period, for sure.
JD: How do you balance that long-term vision when there have been so many short-term crisis events in the last few years?
MK: It's probably the hardest job to be honest with you, taking your sights off the ultimate vision and the route that you need to take. With the amount of disruption that's taken place it's so difficult to balance the day to day with a longer term. And I'm not sure how anybody can be that effective at present because everybody seems to be in the day to day.
I guess GCF is demonstrably going in that direction, regardless. We're in a crisis, and yet through that crisis we've demonstrated the international reach that the business has now got. So I think, you know, certainly the business hasn't taken its eye off the long-term goals. But I think operationally it's very difficult to manage that application as quickly as you would like. It's really problematic. That's the reality.
JD: How does GCF work operationally?
MK: From an infrastructure point of view we use France as a hub, but there are various hubs with each of the regions. Our main HQ is north of Strasbourg, into the mountains of Alsace. It's also our international production site where we produce any international bulk for various markets.
Its sister site, which is one of the biggest in Europe, is in Landiras in Bordeaux, and we also have a site up into Burgandy.
So it's pretty much regionally spread so that the wines aren't travelling far from the location of sourcing and production and then bottling and then exporting. And that's the same case for the world really.
To clarify, we do not produce anything into UK – we have no operations in the UK, other than the sales and marketing functions.
JD: Through the pandemic the off-trade benefited from drink-at-home sales, have you found that it's been a bit of a push to get the on-trade back up and running again?
MK: No, quite the opposite to be honest with you. The on-trade came back surprisingly quickly, and we see continued growth in the on-trade. We're somewhere in the region of 85% off-trade and 15% on-trade.
You're absolutely right about the off-trade. There were two years of spikes – which are probably insurmountable into the future because the on-trade has opened and you've obviously got that dilution of what was there before – but to be honest with you, the on-trade has grown so significantly it's a benefit to the overall growth of the business. And that's been tremendous.
I think the wine merchants and independents recognise the service and availability that we gave to them during that period – particularly wine merchants because they weren't closed. That opened up a new avenue for us that didn't really exist in the same way before. So that is four-square and centre part of our overall approach to strategy within the UK. They're very important to us.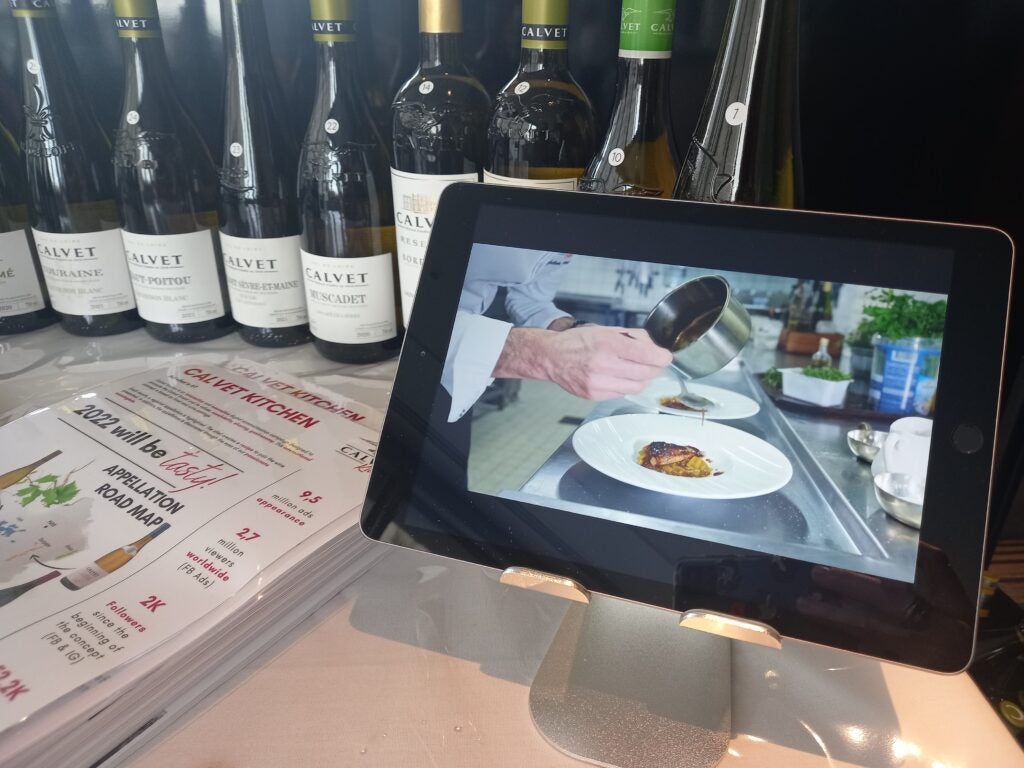 JD: Are there any new markets GCF is hoping to enter internationally?
MK: We're actually trading in about 180 countries, we already have a wide pool of international markets.
From a French point of view, when you have circa 25-27% share it's very difficult to grow a French portfolio – yes, there's organic growth, yes, there's things that we can still achieve within France, for sure. Not that saturation is what we're about. Our quality agenda is absolutely paramount.
But the international quest is part of that next stage of moving into areas and estates that give us that international reach. The beauty of that, particularly here with the independents, is that you can offer a composite arrangement – an arrangement where if you've got a full repertoire that includes many international markets, they become part of that core proposition as opposed to being fringe.
So we can touch international wine markets with say South Africa, with Neethlingshof, or with Las Ninas from Chile, and that becomes a composite arrangement. So if anybody comes to us, they can literally take half a truck or a truck with the whole portfolio, or mix pallets, which we actually do for lots of customers. From an availability, simplification and CO2 footprint perspective it becomes a really sustainable way of doing business into the future. Particularly with availability being such an issue in this day and age.
JD: How has availability impacted your supply chain? Has GCF faced issues with glass?
MK: Availability. Yeah, it's been a challenge for everybody within the marketplace, it's super significant. And it's a distraction from being strategic. The problem with it is that you spend, operationally, so much time trying to avoid out of stocks to ensure that we continue our really good availability track record, but it takes up an inordinate amount of time to be able to manage that chain.
So it's a complication. Will it be a continued complication? Yeah, I think into 2023 it's going to be as complicated as it is presently.
There are massive issues around shipping. There are significant issues around glass, and glass availability. We offer an alternative, should our clients choose to consider them. Recycled PET (rPET) is part of our portfolio. That's vertically integrated in our business and we offer a multitude of molds and some really stylish looking rPET bottles that are compliant, that are lightweight – so the CO2 footprint of containers and shipping is reduced. I guess that (choice) really is down to the retailer and its CSR responsibility and how they engage or not with that particular format. But from our point of view, it's part of a repertoire that can offer a solution.
JD: Has there been a big uptake on rPET?
MK: No, not a big uptake. But there are one or two people who are piloting and will consider it as an option rather than have no availability. Our core portfolio we'll try to maintain in glass as much as we can. We will offer alternatives where it's simply (the case) that third-party glass production is out of our control. And if we do get into that situation, we've got to supply options to the market.
rPET is the obvious option. Bag in box is another one, certainly through the Covid crisis. Those larger packs became part of that increase where people wanted bigger packs in lockdown. Bag in box is a solution for obvious reasons. For example, there are a multitude of sizes. The smaller formats are becoming very problematic because glass producers do not want to stop the production of their main utility drivers (which is 75cl) for the smaller elements of production, so we're facing some difficulties around 187ml.
JD: So are alternative formats more a solution to supply chain issues rather than a sustainability drive for your customers? Or a bit of both?
MK: You've hit the nail on the head. It serves both. Let's face it, the reality of rPET versus glass is the consumer. Is the consumer's pick up and readiness to adapt to a different format something that they will consider if there's no availability, or would they not consider it because of the difficulty of the concept of managing a plastic that is seen as taboo, into marketplace?
I think we've got some philosophical challenges around where rPET sits in the formats of many suppliers into marketplace retailers and independents. But it's certainly something to consider. We can do it, it's vertically integrated and GCF has got the machinery to be able to manage that. Whether you can take that forward, that's a really wide debate.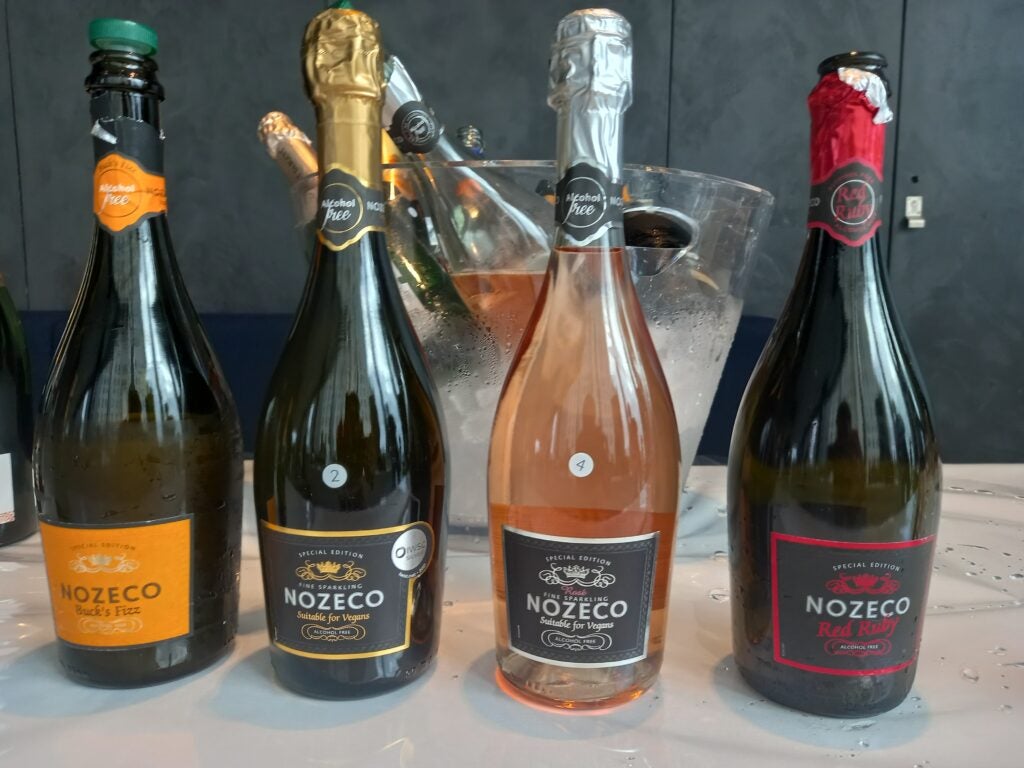 JD: GCF has its own no-alcohol wine brand, Nozeco. What are your plans there?
MK: It was four years in the making and is now a 4m bottle brand into UK, the number-one non-alc sparkling, widely distributed into the marketplace – and it's something we're very proud of.
We're still recording double-digit growth across the range. The rosé is the latest entry and that one's recording the biggest growth.
We're again going through that next cycle of really communicating now to consumers through things like Instagram posts. The beauty of this is that from an occasion point of view, there's no reason to feel removed from the occasion (with Nozeco).
We're moving into new space with it. GCF has various new ranges coming along – there's a buck's fizz that will be in the trade at Christmas. We've got a spritz and a bellini. These are all new additions to the existing brut and rosé.
JD: On what channels are you focusing with your no-alcohol lines?
MK: It started into the off-trade but my goal is to really work with our clients into the on-trade to see whether the different formats – the smaller ones in particular – have a home into the on-trade and if that drinking occasion transfers from off and on – I think they're mutually compatible.
I think what we have is a franchise into the off-trade that we now need to reflect into the on-trade. I think particularly into the managed on-trade arena down the high street. I think there's a gaping gap there for this kind of product.
We've seen it with the gins and all of those spirit repertoires. So from our point of view, it makes perfect sense that you've got a wine alternative. So absolutely we'll be moving in that direction.
JD: Are you planning to produce any more non-alcohol SKUs?
MK: Yes, we're working on the things exclusively with retail partners for some indigenous flavours around Nozeco extensions. But I can't tell you any more!
But while yes, we are working on extensions, what we need to do is absolutely bed these in. There's still so much potential in the core range that I don't want to be in danger of stretching the brand too wide, too quickly. I think we've got to seed things gently now and make sure that they sit in the repertoire, that there's a purpose for them and that consumers want them, rather than just a scattergun approach. That's not the way forward.
JD: Sparkling is a key part of the GCF portfolio, are you looking into English wine?
MK: No, I don't believe that as a business we are looking into English wine or any acquisitions into the South of England. It's not on our radar to be honest. Our crémant repertoire is so wide – we're the biggest crémant producer into France.
Crémant uses the same process as Champagne, the traditional method, and there's much more investment needed to mature in bottle. We need to make sure that our infrastructure is laid down, that we invest into that to have enough provision for the future given the demand on cremant. That's where our focus is and it's a bit laser focused at present. It takes heavy investment, particularly into our Bordeaux plant where we are building extra storage capacity so we can make more crémant de Bordeaux.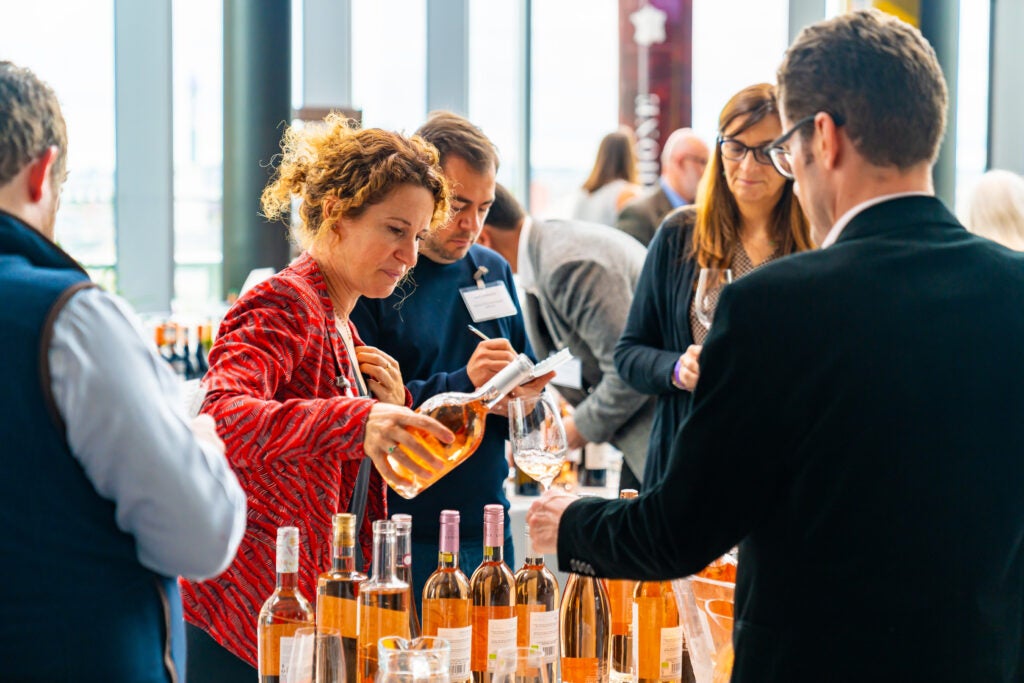 JD: How do you plan to develop your crémant brands?
MK: Sparkling is a big part of our repertoire and I think there's so much scope for crémant. I think the trade are recognising this. Not everybody had a crémant and now most people have got one.
That regional coverage I think has still got potential into marketplace. It's limited by shelf space, but online it's not limited.
So I think in terms of that next stage, we'll see the growth of the regions and then its about discovery, allowing consumers to navigate through France, the vehicle being the appropriate brand. We see Crémant moving with sparkling in that same way. But what better way than to have a regional crémant into each of the French regions that allows consumers to do it. The trick is to have an identity that allows the consumer to do it and I haven't mastered that. That's the 60 million dollar question, isn't it?
There are ways and means we can do it. Calvet's a strong enough brand I think to be able to manage that. But I think finding a space in the economic market at present – it is maybe not the right time. But I'd like to crack it because there is still so much scale and scope for consumers to really understand crémant.
JD: Looking forward, what's one key area of focus for GCF?
MK: I think we've still got mileage in lo-no. GCF has the number one sparkling product in this marketplace, and so we need to think seriously about what the next still wine is, and how we market and project that brand, whatever it be, into the marketplace. We will probably enter into that space in the medium term. That's probably the next big goal. But to get it right it has to be really considered. You've got to have a really good master plan to make sure the execution is perfect and to make it a success like Nozeco.
There are several focuses. We've got a better vintage on (France) 2022 so there'll be a revisit of that into the marketplace. Spirits will be more on our radar too, we've got a spirits portfolio with some USPs which we haven't really pushed to date. But the next step is really bedding in those new international portfolios into the marketplace.