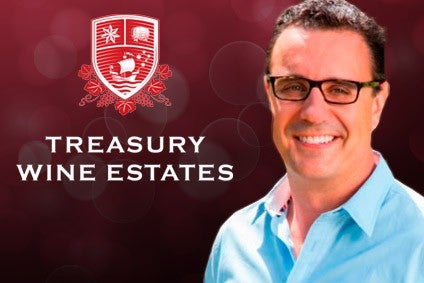 In late September, Just Drinks analysed Treasury Wine Estates' performance trends over the past five years. In this excerpt from our report, we consider what's currently top of inbox for the company and CEO Tim Ford.
China's new normal – Tim Ford has wisely concluded that China will not abandon its punitive tariffs on Australian wine imports quickly or easily, mitigating the severe impact with the swift reallocation of supply, and the prioritisation of other countries of origin. Nonetheless, TWE's presence in China has been seriously scaled back. Never has it been more obvious that it's sensible to spread your risk among a basket of Asian markets, rather than focusing almost exclusively on one.
A global wine business – TWE's exploration of alternative countries of origin for several of its brands, and for its operations in general, predates the introduction of the Chinese tariffs. But, that strategy now seems more necessary and urgent than ever in the current environment – so expect more activity here in the coming months and years.
Work in progress Stateside – Despite the volatility of the past 18 months, and the Wine Group sell-off of four brands earlier this year, it's mainly been business as usual in the US market. There's work to do for TWE here, both in terms of streamlining its operations and selling off the rump of its non-priority brands. The company will also hope to see an improvement in trading conditions and an end to fierce price competition.
Don't forget Europe – The mature markets of the UK and continental Europe can sometimes look less lustrous to executives hungrily eyeing the riches of the Far East or North America. But, as TWE's performance in fiscal-2021 shows, there are still opportunities in a region with an established fine wine consumer base and relatively strong macroeconomics. There's more potential here for the future.
Innovation, innovation, innovation – The wine category can be a frustratingly conservative place, so TWE deserves huge credit for pursuing a relatively radical innovation agenda in recent years. Nor is this confined to 'new' brands such as 19 Crimes – a name as historic as Penfolds can also benefit from fresh thinking. This laudable ethos of picking the right NPD should continue.
For sale? – March 2021 brought a rehash of past rumours that Pernod Ricard was about to table a bid for all or part of TWE, with varying reports of outright acquisition of the acceptance of a minority stake. The chances of a deal in real life looked, and continue to look, remote, but we shouldn't discount the possibility altogether. A well-run business wounded by China's punitive tariffs continues to represent a tempting takeover target.
Treasury Wine Estates Performance Trends 2017-2021 – results data