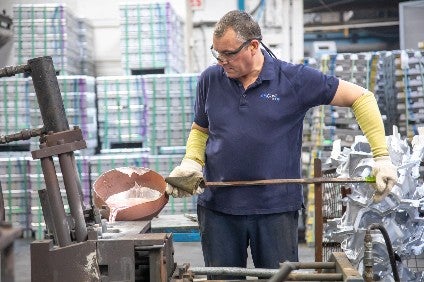 Widespread aluminium shortages last year compounded a miserable 12 months for brewers and soft drinks makers that rely on the metal for packaging. As the first quarter results for this year roll in, CEOs and leading executives are telling analysts what the effect of those shortages are having on their company's costs, and throwing light on how they will influence prices in the months ahead.
Yesterday, Monster Beverage Corp CEO Rodney Sacks complained his company has been forced to source aluminium cans from South America and Asia because of "current supply constraints in the aluminium can industry". The issue, he told analysts, was not so much the cost of the cans but rather the attendant increase in freight and logistics spending.
"We've always tried to manufacture and sell within regions to avoid excessive shipping costs," Sacks said after Monster's Q1 results. "We had to break that this year to satisfy consumer demand."
Shipping costs were also on the mind of Keurig Dr Pepper CEO Bob Gamgort last week. Speaking following the announcement of his company's own Q1 figures, Gagamort flagged that aluminium prices continue to rise and that KDP has experienced "a spike in transportation and logistics costs".
Behind Sacks' and Gamgort's complaints are record high prices for aluminium brought about by a number of factors. The trade dispute between China and Australia has disrupted the global aluminium market (China is the world's leading buyer of the metal while Australia is a major producer of raw materials bauxite and alumina) while in beverages the shift to grocery sales during the coronavirus pandemic has increased the demand for certain formats. In October last year, Molson Coors Beverage Co CEO Gavin Hattersley said a lack of slimline 12oz cans for hard seltzers had forced his company to suspend some slow-moving lines.
The larger beverage brand owners are protected from aluminium price fluctuations, in the short-term at least, by hedging – meaning they lock in prices for months or years ahead. However, the major headache right now is the expanding transportation costs as the shortages force companies to source from further afield. As KDP's Gamgort pointed out, transportation costs "cannot be hedged".
The sharp rise in the price of aluminium, however, will eventually catch up with even the most hedged companies. Monster's Sacks predicted yesterday "a significant" increase in aluminium costs for the company, citing an 80% price increase for the metal in the US and 70% in Europe compared to 12 months ago.
The effect this will have on the price that consumers will be expected to pay for their beverages is difficult to gauge, however the coming year looks set to bring significant challenges to pricing for drinks brand owners affected by aluminium shortages. Management rarely comes out and states that price increases are in the pipeline, but last month PepsiCo CEO Ramon Laguarta revealed he hoped for more "rational" pricing in the months ahead because of the added costs of aluminium. By that rationale, the PepsiCo head means he doesn't want a flurry of promotional offers in the soft drinks aisle, and instead would like time to mitigate those rising costs.
"There is probably a high likelihood that the market will remain as rational for the next quarters, and that's what we're trying to do ourselves," Laguarta said. "I expect the rest of the industry would follow a similar position."
Fingers will be crossed in a number of executive suites that he is correct.
Why COVID has prompted an RTD tsunami from spirits brand owners – Click here for a just-drinks comment