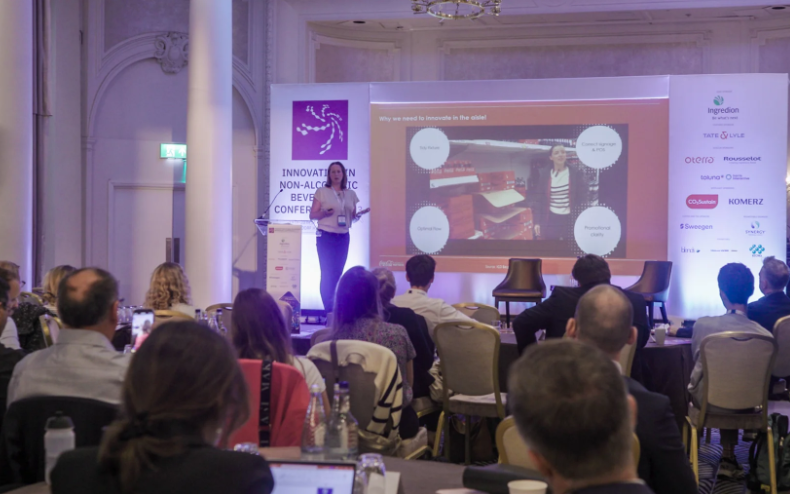 Amid pressure on costs and adapting to cash-strapped consumers, the non-alcoholic drinks industry remains upbeat. Those who attended the Innovation In Non-Alcoholic Beverages Conference 2023 in London, presented by Just Drinks, found plenty of reasons for optimism.
In the fledgling but growing markets for alternatives to alcohol, manufacturers and brand owners underlined the opportunities for expansion.
A Heineken presentation discussed how the non-alcoholic beer category is still firmly on the rise, claiming Gen Z alcohol consumption has dropped 25% in the last four years.
The Dutch brewer added that only 8% of English "young and legal drinking age consumers" drink at least once per week – a figure which stood at 50% ten years ago.
In soft drinks, speakers discussed trends such as functionality and sustainability.
The two-day event dealt with topics ranging from the UK's plans to alter non-alcoholic labelling legislation to hot topics in more traditional non-alcoholic beverages, including the impact on soft drinks of the recent scrutiny on aspartame.
How well do you
really

know your competitors?

Access the most comprehensive Company Profiles on the market, powered by GlobalData. Save hours of research. Gain competitive edge.
Company Profile – free sample
Thank you!
Your download email will arrive shortly
Not ready to buy yet? Download a free sample
We are confident about the unique quality of our Company Profiles. However, we want you to make the most beneficial decision for your business, so we offer a free sample that you can download by submitting the below form
By GlobalData
However, there was one frontrunning theme which nearly every speaker acknowledged throughout the London event.
Flavour first
The phrase "taste is king" echoed around the conference for its duration as the industry seemingly all agreed on the importance of flavour in both attracting and keeping customers.
For companies with a strong presence in the alcohol sector, normally specifically in beer, the focus is on matching flavour and mouthfeel with its non-alcoholic counterpart.
Steve Gilsenan, global head of quality for Guinness at Diageo, said: "What we focus on at Guinness is all about taste. For us, the taste and the visuals of how Guinness is poured, how it's surged, how it settles and how it is presented – that has to be the same for going for Guinness 0.0."
Diageo offers a non-alcoholic variation of Guinness (and is investing heavily behind the product) and the company has recognised the need for taste to be as close as possible to the flagship stout.
Gilsenan added: "When we do blind tasting [between Guinness and Guinness 0.0]… where you get the two glasses side by side, they look identical, they surge identically… people have really struggled to tell them apart."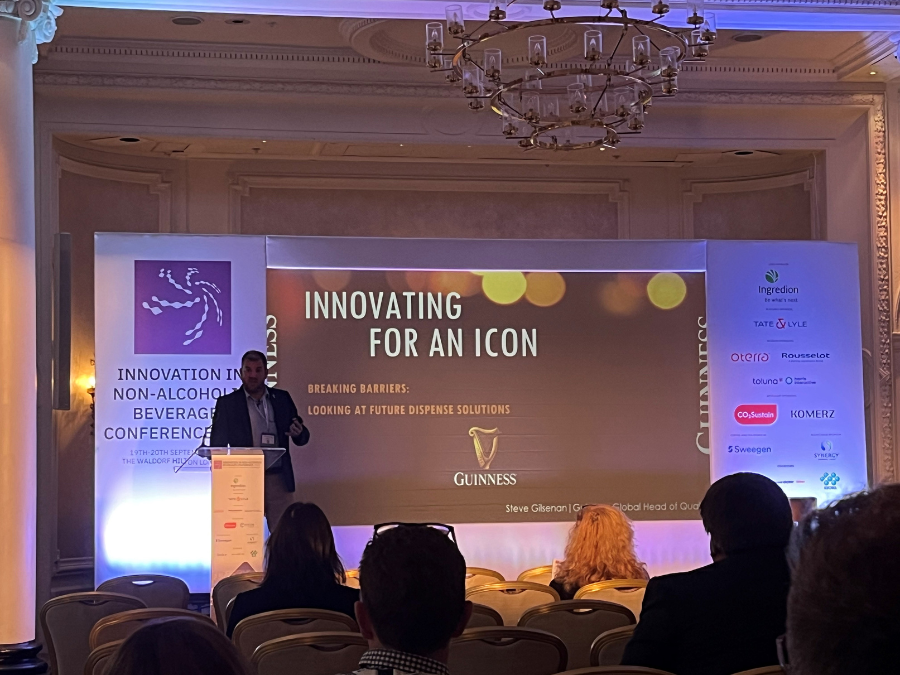 Meanwhile, Heineken global innovation manager Karlijn van Ruiten told a similar story with its alcohol-free version, Heineken 0.0.
"I think the patience we took to come up with a 0.0 beer that had a good taste really changed the landscape. I think in the past, the perception of no and low was much worse when it comes to taste. And I think Heineken 0.0 has really built on the taste credentials," she said.
Both Diageo and Heineken, as well as the other speakers, concluded that flavour and presentation set the foundation for a non-alcoholic beverage to become successful.
However, contrary to the brewing giants, some smaller companies were not focussed on matching flavours to an alcoholic counterpart – but rather innovating in its own sphere.
Adrian Hipkiss, marketing director at Boost Drinks, discussed how non-alcoholic ready-to-drink beverage brands can continue to innovate amid inflationary pressures by "cross-fertilising" with other industries.
He said: "Bringing in the broader context and building our insight by taking those learnings from a multitude of different sectors [is key].
"I think it's also really valuable to look at how other sectors treat line extensions versus true innovations. How do you stretch out from a successful concept to fundamentally shifting into a new space and driving proper and deep innovation?"
Interestingly, at last year's event, Hipkiss said: "I can't emphasise this point enough; our favourite drinks are always preferred because of how they taste not necessarily because of what they do."
But what's the function?
Functional qualities, such as immunity-boosting, relaxing, and energy-boosting, are more sought after than ever in beverages.
The non-alcoholic industry, said to have less than regulations to meet compared to alcoholic drinks, has a great opportunity to tap into the popularity of functionality, adding another attractive element to their products.
Hipkiss' "cross-category fertilisation" included looking at the use of collagen in the beauty industry as well as gut-health-focused products in the food sector.
That said, he disclosed to Just Drinks that the AG Barr-owned company is not currently looking at adding functional ingredients like collagen to its products.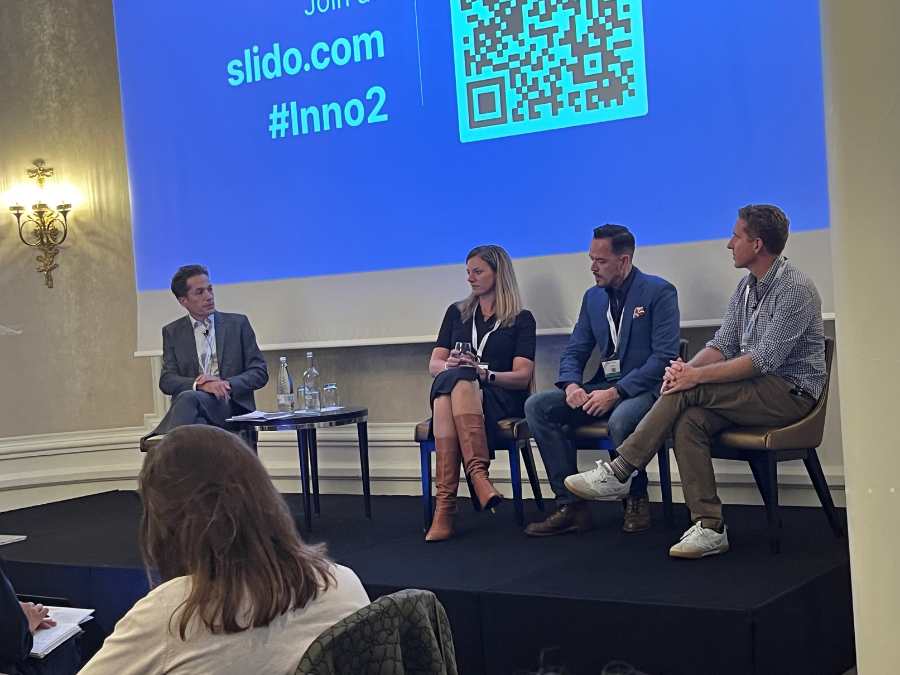 Mark Dempsey, senior consulting director at GlobalData, said that companies need to focus on functionality, but should "try and make it as specific as possible".
"We're in a world where what we don't want to happen is functionality to become the next 'natural'. Twenty years ago, everyone wanted natural. We still see claims about 'natural' working our way through and being the key leading message. It has a role in some instances.
"But natural is pretty generic. What does it really truly mean to the consumer? How do you use it to differentiate? It's the same thing with functionality: don't let this just become a generic message."
The winners of the next three to five years are not going to be the same winners that we have historically seen.

Mark Dempsey, senior consulting director at GlobalData
Dempsey also discussed the idea of a "ginger shot" – a single-serve small bottle of ginger juice. He explained how the "ginger shot" has no direct alternative. In other words, you would not buy it in place of something else.
He believes that this is representative of the future of non-alcoholic beverages and the direction of innovation: "The ginger shot is kind of my inspiration. It's a quick hypothesis about the way the market is changing.
"GlobalData believes that the non-alcoholic beverages marketplace is in a period of dynamic change. The winners of the next three to five years are not going to be the same winners that we have historically seen.
"We believe that there will be different winners in terms of operators, retailers, manufacturers, and staying up to speed and capitalising upon some of the big trends are what will set the winners of the future aside.
Meanwhile, according to Tate and Lyle, 63% of UK consumers are striving to have a healthy diet and to "eat healthily most of the time".
In a ranking of consumer preferences, the ingredients company said that health benefits are at the top of the consumer's mind at the moment.
Lin Peterse, beverages category development manager at Tate and Lyle, said: "And now it's even going a step further where healthy people are actually looking to improve their health with their diet. They are looking for added health benefits to work on their healthy state of mind, even physical, but also mental health, so it's flowing into this fuller holistic health picture."
Striking the affordability balance
Investment in flavour, quality and ingredients comes with a price and speakers agreed the cost of alcohol alternatives should stay relative to conventional alcohol, both as an indicator of quality and to maintain innovation in the category.
Pricing presents a headache for non-alcoholic companies. On the one hand, consumers are cash-strapped and will opt for cheaper products where applicable. However, on the other hand, consumers are still very focused on health and wellness and some may therefore be willing to spend more on a "premium" product.
Peterse stated: "What we are talking about today is that we are in this inflationary environment, people are really looking for value for money and we can, of course, focus on reducing costs and going very far in that.
"But at some point, that is, you cannot produce any further and it's also not very exciting and dynamic and innovative. So, this functional space is a very interesting one."
Dempsey from GlobalData believes that the consumer will still spend more despite the cost-of-living crisis: "We are in a dynamic state of change, where consumers will spend more money, they will invest in some new categories and some new innovations."
In an interview with Just Drinks on the sidelines of the event, David Begg, founder and chief executive of fermented sparkling tea brand Real Drinks Co., said the UK company had faced steep increases in input costs.
"The impact on shipping charges and all the other elements is dramatic, especially at a time when consumer pressures are to spend less and look for improved pricing.
"But we have advantages in that we are growing very fast. We are gaining the benefits of scale – for bottle purchasing, we're buying in bigger volumes and we're able to move from supply chain routes to other supply chain routes. Yes, we're getting price increases but we're managing to mitigate them somewhat."
B Corp the bare minimum?
At a time when every company in the world is making sustainability pledges, the non-alcoholic drinks industry is no different.
Sally Orland, category strategy lead at Coca-Cola Europacific Partners, spoke about how sustainability will "drive soft drinks innovation of tomorrow".
She said: "It's really hard to be making those sustainability decisions [for the consumer]. We as an industry need to make that easy for the shopper. Now there's a lot of good progress in terms of pack innovation… lots of things are happening there. Education we know is important."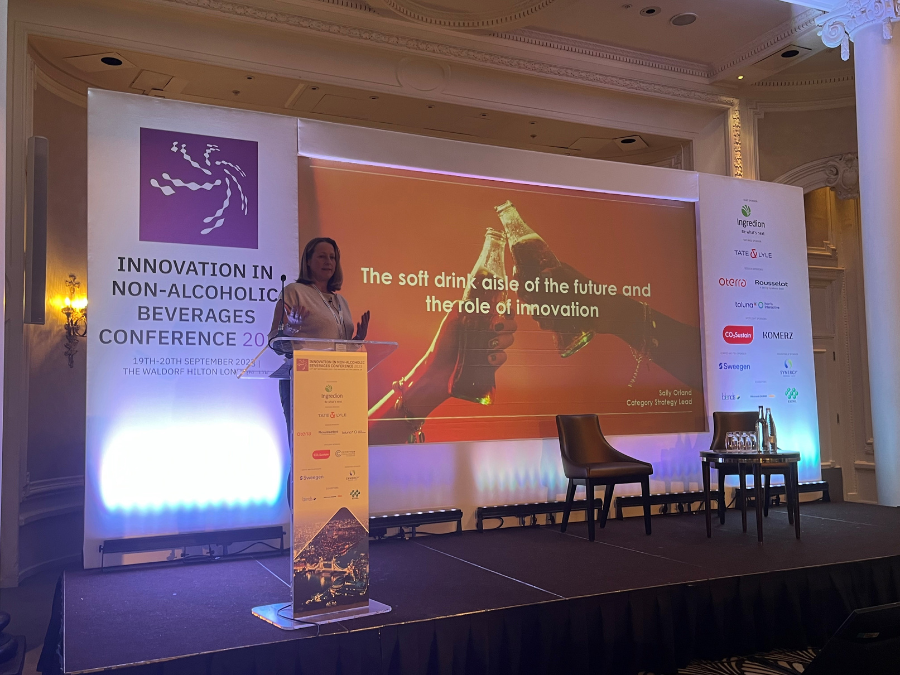 "But the future is looking at things like biodegradable packaging and refill dispensing – these are all areas that we're still trying to figure out and we haven't got the right solutions yet," she noted.
"When you ask shoppers about sustainability, most of them think that actually it's the responsibility of the manufacturers and the retailers. It shouldn't be their decision to make. We should just be making the product sustainable for them and that comes back to supply chain.
"We're trying to do our best and a lot of progress has already been made… but there's only so much we can do. Therefore we need to look at what's the next thing to do to really get to the ultimate sustaining product that is just sustainable, full stop."
On a smaller scale, two UK soft drinks start-ups – Karma Drinks and Nix&Kix – were later both asked whether becoming certified B Corp was now considered the "bare minimum" requirement.
B Corp is a certification companies can hold if they meet requirements set out by B Lab, a US-based non-profit that devised and administers the system. Companies receive a qualifying score from an impact assessment held by B Lab covering a set of ESG criteria.
Julia Kessler, founder of Nix&Kix, said: "It just cuts out a lot of the noise… if other companies know that you're B Corp, you don't have to explain that you're ethical and sustainable and well-run as an organisation. They just know that is what we do. From that aspect, that's really helpful."
A leg-up in labelling needed
The London-based conference took place just days before the UK government revealed plans to review the non-alcoholic labelling laws and regulations.
The government consultation will call for feedback on a proposal to raise the threshold for an "alcohol-free" drink to an abv of 0.5%, hoping to make alternatives to alcoholic drinks more widely available and popular.
Laura Willoughby, co-founder of alcohol-free retailer and bar Club Soda, held a roundtable to discuss some of the problems presented by the current legislation.
Willoughby underlined how taste is a major factor in attracting new customers to non-alcoholic drinks. She suggested the current situation where "alcohol-free" drinks in the UK must have an abv of 0.05% hinders the category. She also presented the idea of removing VAT from non-alcoholic drinks.
On the sidelines, Begg told Just Drinks: "It is a minefield and we do need to get to a point of clarity but I think we have to be very careful not to end up really draconian about it. In the US, anything that teeters above 0.5%, it's like a no-no – suddenly you're in the alcohol licencing sector."