The Verdict
Pernod Ricard had a stunning year with shortlist nominations across eight of our categories. The wine and spirits giant and its individual brands undertook numerous impressive projects including several related to M&A, social and community initiatives in addition to general business expansion and product launches.
In response to the Covid-19 pandemic the firm is recognised for initiatives which included producing large volumes of hand sanitizer or providing resources and investment to health and social care providers including the UK NHS.
In addition the company supported its on-trade and hospitality customers in several ways including supplying free resources such as hand sanitizer to companies and venues and involved itself in a partnership focused on reopening cafes in rural France. The company also undertook a number of projects with a social or community angle including establishing the 'Better Balance' initiative focused on diversity, mental health and wellness and renewed its partnership with the Erasmus Student Network (ESN) to promote responsible alcohol consumption and combat binge drinking among students in Europe. Through its Absolut Vodka brand the company also showed support for the LGBTQ community through creating unique branded products and communication projects.
On the marketing side the brand also launched a campaign to encourage voting and political engagement during the US presidential elections, while it's Ceder's premium distilled non-alcoholic spirit launched the 'Strike the Balance' campaign in January, a time of year when no-low spirits typically over-index.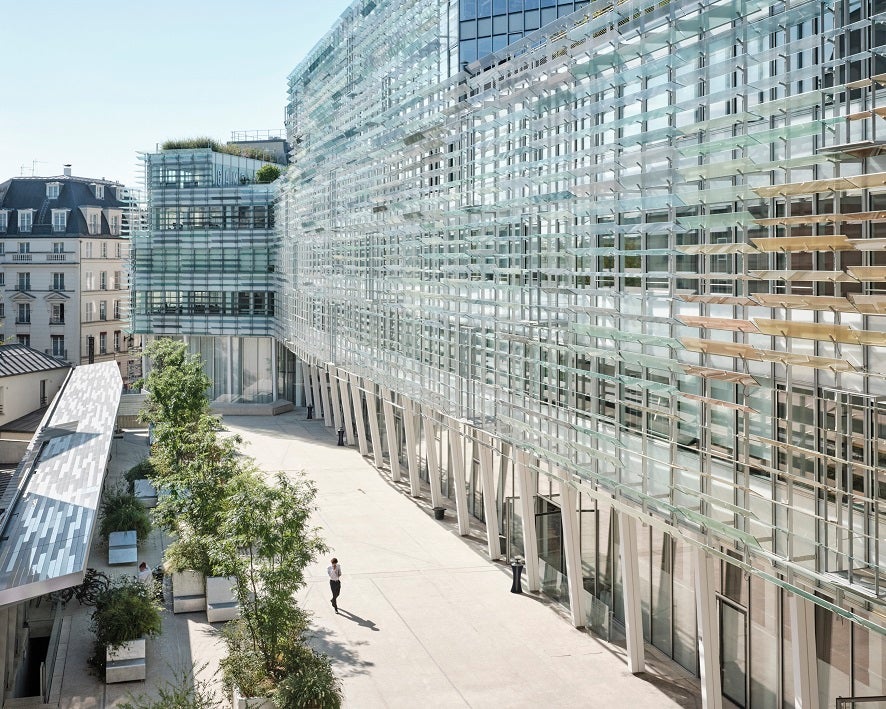 The Island, immeuble Pernod Ricard Cours Paul Ricard, quartier Saint-Lazare Paris Architecture Ferrier Marchetti studio
There were also notable projects in the company's general business activities including the acquisitions of Hechicera Colombian rum, Petroni Vermouth or Ojo de Tigre mezcal, and the launch of a travel retail boutique in Shenzhen for cognac brand Martell, notable for its use of technology and interactive user experiences. The firm also established its new global Headquarters in the heart of Paris a few blocks away from its new concept Store Drinks & Co.
Overview
Pernod Ricard is the No.2 worldwide producer of wines and spirits with consolidated sales amounting to €8,824 million in fiscal year 2020/21. The Group, which owns 16 of the Top 100 Spirits Brands, holds one of the most prestigious and comprehensive portfolios in the industry with over 240 premium brands distributed across more than 160 markets.
Pernod Ricard's portfolio includes Absolut Vodka, Ricard pastis, Ballantine's, Chivas Regal, Royal Salute, and The Glenlivet Scotch whiskies, Jameson Irish whiskey, Martell cognac, Havana Club rum, Beefeater gin, Malibu coconut rum, Mumm and Perrier-Jouët champagnes, as well Jacob's Creek, Brancott Estate, Campo Viejo, and Kenwood wines.
Pernod Ricard's strategy focuses on investing in long-term and sustainable growth for all its stakeholders, remaining true to its founding values: entrepreneurial spirit, mutual trust, and strong sense of ethics. The Group's decentralised organisation empowers its 18,500 employees to be on-the-ground ambassadors of its vision of "Créateurs de Convivialité".
Pernod Ricard 2030 Sustainability and Responsibility roadmap "Good Times from a Good Place" is integrated into all its activities from grain to glass, and Pernod Ricard is recognised as a UN Global Compact LEAD participant for its contribution to the United Nations Sustainable Development Goals (SDGs).
Pernod Ricard is listed on Euronext (Ticker: RI; ISIN Code: FR0000120693) and is part of the CAC 40 and Eurostoxx 50 indices.