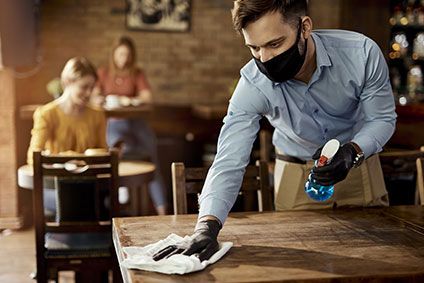 As lockdown restrictions continue to lift in markets across the world, hospitality venues are re-opening their doors or preparing to increase their capacity. Category commentator Lucy Britner explores how soft drinks brand owners can make sure they get their fair share of the expected boost to on-premise and foodservice sales.
There's no escaping the fact that it's been a tough year for hospitality. From out-and-out closures to capacity restrictions, the sector has been hit hard – and within this, soft drinks have suffered.
The Coca-Cola Co saw 2020 sales come in 9% down on 2019, while PepsiCo's improved showing was only because of its relatively smaller exposure to the out-of-home channel. According to a report from Moody's, released last year, out-of-home accounts for 15% of PepsiCo's sales compared to about 50% for Coca-Cola.
Elsewhere, AG Barr reported an 11% slide in sales in the 12 months to 24 January, while Britvic saw its sales in the year to the end of September fall by just under 7%. According to Britvic, the total value of soft drinks in the UK's on-premise fell significantly in its fiscal full-year – down by 37% to GBP1.69bn (US$2.35bn) in foodservice and by 61% to GBP1.78bn in licensed.
The question is: How can soft drinks brand owners ensure the return of the on-premise not only helps to recover sales but also creates more?
As part of its Soft Drinks Review 2021, Britvic this week outlined several key trends that will help soft drinks bounce back to the bar.
According to category manager Claire Green, there are two types of consumer emerging from lockdown – one is interested in treating themselves and getting back out there, while the other is more cautious. This slow-and-steady approach may come from financial concerns or it could be related to hygiene worries.
Green says brand owners need to work with on-premise outlets to remind consumers of what they've been missing out on at home. Retraining staff in terms of 'perfect serves' will help to elevate soft drinks, Green believes. She also highlights occasions, such as sporting events or Father's Day. "Ensure soft drinks are included in this," she says. "There are always people who want a soft drinks option."
Getting the range right is important when it comes to attracting both adventurous and cautious consumers, according to Green. While the former might want to splash out on more premium products and mocktail options, the latter may be more interested in a value proposition.
Britvic's senior development manager, Katy Watts, splits the health & wellness trend into two camps. Functional drinks are more applicable to the foodservice sector, she says, while low- & no-alcohol alternatives are more in line with the on-premise.
Watts notes that coffee shops are increasingly stocking functional items, such as vitamin shots or gut health-related products.
In other markets, Britvic has bolstered its wider health & wellbeing offer. Director of sustainable business Sarah Webster mentions the roll-out of an organic version of the group's Teisseire brand to cafés, hotels and restaurants in France, this month. The five-flavour BIO Mathieu Teisseire syrups brand comes in a 50cl glass bottle format and Webster believes the launch lines up with the growing trend of conscious consumers who are "increasingly interested in the origin of their purchases and making good choices for their wellbeing".
There could also be room for functionality behind the bar, with Britvic's GB MD, Paul Graham, explaining that it's important to deliver on consumer demands. Earlier this month, the company announced the purchase of Plenish, a plant-based milk and juices brand. While sales of Plenish are currently mainly through the grocery channel, Graham notes that "consumers increasingly want plant-based products, so it [Plenish] will become essential on menus".
Although functionality is important to consumers, Watts is keen to point out that taste is still paramount, citing it as the number one reason for choosing drinks – health & wellness drinks still have to taste good!
Looking across to low- and no-alcohol and there's a renewed opportunity for mixers in the on-premise, Watts explains, highlighting a move by consumers to drink solus mixers instead of spirit-mixers. Indeed, there's been an explosion of flavoured mixers in recent years and Watts says helping operators to increase their mixer ranges will help to steer consumers away from either not drinking anything, opting for tap water or choosing lime & soda.
The company also mentions its London Essence Fresh Serve tonics fount, which first launched in 2019. The units are in around 300 outlets around the UK and will help encourage the notion that mixers can be enjoyed as a standalone alternative to alcohol at the same time as answering some sustainability demands, since there is no need for packaging.
Meal kits and takeaways look set to play a continued part for the on-premise and foodservice, at least in the near term. According to Britvic, seven in ten UK consumers plan to retain their delivery habits post-COVID. Over in the US, several states are looking to update regulations in order to make pandemic-driven moves to takeaway and delivery more permanent.
But, there's still some work to do for soft drinks. "With 40% of consumers looking for food and drink options and 'drinks only' occasions under-indexing, drinks remain an untapped opportunity for delivery," explains Britvic's Green. She says it's important that soft drinks are more visible on takeaway apps or online ordering systems.
This also goes for physical menus, with images and descriptors helping to entice drinkers away from tap water.
While the on-premise and foodservice channels still have a way to go to fully recover, changing consumer habits could be a boon for soft drinks brand owners – providing they work with the channels to get the offer right.