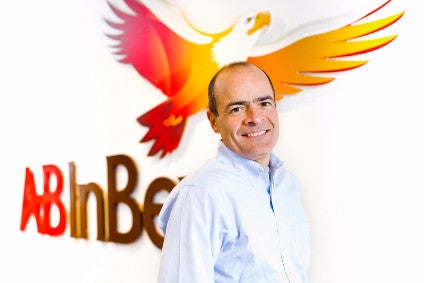 Well, Brito, it's been one hell of a ride.
In the more than three decades that Anheuser-Busch InBev CEO Carlos Alves de Brito has been in brewing, the companies he has gone on to lead have sold more beer than any other in history. He has overseen the two biggest takeovers in beer, including one that ranked among the largest in corporate history, and helped assemble a global entity that is responsible for one-third of the beers sold on the planet.
It's no understatement to say that Brito has shaped the industry we work in more than perhaps any other person.
But, although his legacy will be measured mainly by the industry-changing, mega-brew deals, there are other, more subtle influences that Brito brought to global beer – and to the corporate environment more broadly. No account of his time at A-B InBev is complete without at least a passing reference to his parsimony. The economy flights and office hot-desking played well with investors who lapped up Brito's zeal for cost-cutting, and suggested the CEO was cut from a different cloth to brewing's more traditional management.
His attention to spending marked Brito out – perhaps unfairly – as more businessman than brewer. A-B InBev's reputation under his leadership was of an acquisition-hungry company that would cut costs at its acquired assets to a minimum, at the same time as replacing management with its own people.
I witnessed the A-B InBev assimilation process first hand, during a visit to Long Island craft brewer Blue Point Brewery one year after its takeover. Any question I put to the founder was answered by the newly-appointed director, an A-B InBev veteran. I could feel the tension in the room.
Over the next few years, many of the original owners of A-B InBev's craft beer acquisitions would eventually leave.
A-B InBev's detractors – and there are many of them in craft beer – would argue that the group has brought a creeping homogeneity to the business and stifled competition through its distribution clout. But, the strategy has paid off in the sense that it has created a global craft brand out of Chicago's Goose Island, and given A-B InBev craft outposts in cities as far-flung as Seattle (Elysian Brewing) London (Camden Town) and Shanghai (Boxing Cat). No doubt, Brito would argue he has brought craft beer to more consumers than the likes of Brooklyn Brewery, The Boston Beer Co and Sierra Nevada combined.
Recently, he has done the same for Corona as A-B InBev started brewing the Mexican brand outside of its home market for the first time. Corona, which previously played on its Mexican credentials, is now a global brand alongside Budweiser and Stella Artois and is produced in countries including Canada, China and Germany.
So, why is he stepping down? Well, 15 years is almost the upper limit for the tenure of a global business leader and, at 61, Brito might be looking to squeeze in a couple more challenges before he hangs up his calculator.
There may also be pressure from above Brito for a new broom. The most influential shareholder in A-B InBev is 3G Capital, the Brazilian investment fund seen as the architect of the brewer's huge expansion over the past two decades. The challenges of the coronavirus pandemic may call for new ideas.
Enter Michel Doukeris, the man who will replace Brito on 1 July. Like Brito before him, Doukeris is the current head of A-B InBev's North America operations. More importantly, however, he previously headed up A-B InBev in China, which has turned into one of the company's shining lights. It may be that the China strategy of heavy premiumisation, along with the expansion of flagship brands Budweiser, Corona and Stella, has given A-B InBev a blueprint for success in other markets, particularly Africa – which, after all, was the main focus of the SABMiller takeover.
There is also a need for A-B InBev to start paying back the huge costs incurred for the SAB purchase. The divestment of A-B InBev's Australian operations – part of the company for a short three years – highlights both Brito's lack of sentimentality and the urgency needed to pay down the debt. There is also a sense that A-B InBev may need to increase investment.
Speaking to just-drinks today, Bernstein analyst Trevor Stirling said A-B InBev is "not going to turn profligate", but "if they see an opportunity to invest to accelerate growth, they will likely go for it, even it puts a bit of pressure on margins short-term". Indeed, Doukeris, Stirling tells us, was able to pull off strong growth and margin expansion when in China.
Brito's legacy, then, is that he turned A-B InBev into a truly global brewer – it will be Doukeris' challenge to make it a debt-free one.