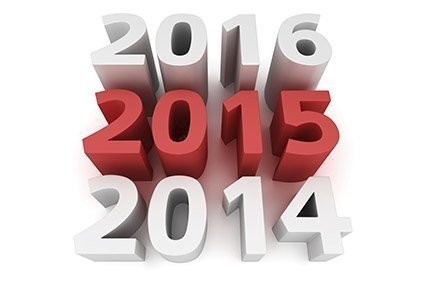 As we brave the dawn of 2015, Chris Losh presents his annual look at what he expects will shape the wine landscape in the year ahead. Or not.
January
Scientists at Davis University in California unveil their long-awaited plan to help the country's flabby wine industry. "Sugar addiction is a real problem in many US wines," says head of research, Hassel Davidoff. "We're seeing bottles as young as six months that are seriously overweight. By measuring a bottle's BMI (Bottled Merlot Index), we hope to be able to catch vinous obesity early and help sufferers take steps to lose weight."
The Bordeaux Marketing Council launches its latest campaign to get youngsters to drink claret, with a rehash of a 2014 pop classic. 'It's All About Those Blayes' attracts six 'likes' on Facebook and is deemed such a success it spawns copycat campaigns by wineries in the Mosel ('All about Those Späts' – two 'likes') and in Chile's Maule Valley ('All About That Pais' – one retweet).
February
After Stoptober, Dryvember, the Christmas pre-tox and January's Dryathlon, the drinks industry launches a campaign controversially labelling the second month as 'Bingeuary'. "Obviously, while we pay lip-service to all this responsible-drinking business, we can't actually have people drinking less 'cos we'd be out of a job," says a spokesperson. "If they're going to take a few months off, it's absolutely crucial that we get their consumption back on track once they start again with a serious, structured re-tox."
The head of New Zealand's wine growers is quick to defend his country's wines after a flight of Hawkes Bay Cabernets are criticised for being "mean, thin, underripe and joyless". "We've said for years that we were capable of making Bordelais-style reds – it's good to see that we've finally arrived," he says.
March
Following the launch of its 'Coke' glass last year, Riedel adds a '7-Up flute' and a 'Vimto Schooner' to its soft drinks range. "I suppose they might make the drinks taste better," says company spokesman Hans Kniesen-Bumpsadaisy. "But, frankly, we're too loaded to care much either way."
Burgundy reports yet another shortfall in stock. "Obviously, the last few vintages didn't help," said a spokesperson. "We were doing okay until we had a week-long visit from a group of Australian and South African winemakers. They pretty much cleaned us out."
English sparkling winery Vanity Project Estate attracts attention from environmentalists when it plants its vines on the largest landfill site in the country. "It seemed to work okay for the Champenois," says owner Tristram Tweed-Jacket. "We're hoping that the discarded prams, old TVs and wrecked sofas will add a real minerality to our wine."
April
The mystery of the disappearance of a cargo ship from Buenos Aires to Southampton is cleared up when a check of the ship's inventory reveals it was carrying two palettes of super-premium 'Ego del Patron Reserva Especial Malbec'. "It was an accident waiting to happen," says accident investigator Jose Dadaddy. "There's not a vessel on earth that could carry a weight like that and stay afloat."
Bordeaux Chateaux deny that their decision to 'attract families' to en primeur week, with giant cartoon characters and rides such as 'The Tannin of Terror' and 'Green Cab Carousel', is proof of dwindling interest from serious professionals. "En primeur has always been a bit of a Mickey Mouse concept," says a spokesperson. "We're just taking it to its logical conclusion."
At a contest in Marseille, Henri Thierry is crowned 'Rudest Sommelier in the World'. Narrowly beating five fellow Frenchmen in the final, Thierry's decision to refuse to open a bottle of claret because it was "insultingly cheap" was described by the judges as "sheer brilliance". "Remember," says head judge, Gaston Piston, "grumpiness is temporary. Rudeness is permanent."
May
Controversial brewer Brewdog cries foul when its latest beer is banned by the regulators on the grounds that it could cause social unrest. "It's a single varietal beer, made from our own unique hop strain, and we've put that on the label, pure and simple," says Brewdog's owner, Dick Glennie. However, Roger Stuffed-Shirt at the regulators is unrepentant. "They should never have called their new hop 'F**k Da Police'," he says. "This whole thing is just a pre-planned publicity stunt. Again."
Following a tasting of low-alcohol wines, the British Chancellor raises the duty level on wines under 5% abv "for the public good". "We're not in favour of encouraging people to drink," says a Treasury spokesperson. "But, we'd rather they wrecked their livers than drank that rubbish."
Self-styled 'digital voice of the younger wine lovers', the WineYoofz, continue their mission to make wine 'more street' by repurposing social media acronyms. But, despite heavy pushing, LOL (Lover of Lambrusco); OMG (Oaky Mendozan Gloop); BBF (Bordeaux, But F***ed); YOLO (Yes it's Orange, Leave Onshelf) and ROTFL (Rat-arsed On This For Lunch) fail to resonate with an audience who mostly drink Jägermeister.
June
Astronomers are excited by the pictures sent back from their latest probe at the outer reaches of space. "This is a view of the universe almost from the dawn of time," says the head of the mission. "Humans struggle to grasp the sheer immensity of space. But, if you can imagine a time when Burgundy was actually affordable then double it, that should do the trick."
Hackers are blamed for a series of postings from the official Cotes-du-Rhone Twitter account that label New World wines as "sugary Pop Tart ectoplasm merde-vin", Bordeaux' garagistes described as "Parker-frotting arrivistes with pheromone-sodden fruit" and Cava as "the vinous tongue-scrapings of degenerates and moral retards". "It is quite disgraceful that someone has hijacked the good name of our region in this way," said the AOC's communications director Jerome A L'Oane. "Even if one thinks these things, one should not say them."
Part two of Chris' predictions can be found here.