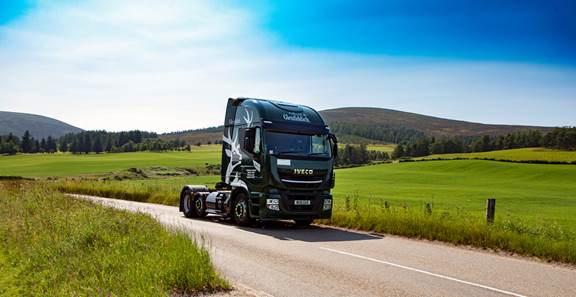 William Grant & Sons is to power the delivery fleet for its Glenfiddich single malt Scotch brand using biogas made from leftovers of the distilling process.
The group, which developed the conversion technology itself, said today the "closed loop" sustainable initiative is the first of its kind in spirits. The gas is converted from production waste and fuelling stations have been installed at the Glenfiddich distillery in Dufftown.
According to William Grant, each truck displaces up to 250 tonnes of CO2 annually, which has the same environmental benefit as planting up to 4,000 trees every year.
"We are proud of these renewable energy breakthroughs in our industry as we scale up the de-carbonising benefits of this closed-loop process across our entire transport fleet," said William Grant's distilleries director, Stuart Watts.
In January, the Scotch industry set new sustainability targets including a pledge to have net-zero emissions from its own operations in place by 2040. The industry also promised to make all packaging for Scotch reusable, recyclable and compostable by 2025.
Spirits brand owners look for associated environmental benefits – Sustainability Spotlight