Nicaragua: Latest beverage news & analysis
Latest News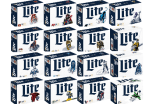 Molson Coors Beverage Co secures deal to launch Miller Lite in Nicaragua 17 Aug 2020
Molson Coors Beverage Co has signed a deal with Nicaragua's largest brewer to expand Miller Lite into the country.
---
Product Launch - Companía Licorera de Nicaragua's Flor de Cana Centenario 25 2 Oct 2014
Compañía Licorera de Nicaragua has lined up what it claims is the "finest ultra-premium" rum in its Flor de Caña portfolio.
---
NICARAGUA: 35 dead from illicit alcohol 12 Sep 2006
Around 35 people have died in Nicaragua from drinking illicit alcohol.