Bulgaria: Latest beverage news & analysis
Latest News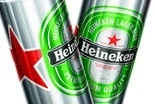 Coca-Cola HBC's Zagorka sale "makes sense" - Heineken CFO 22 Oct 2014
Heineken's CFO has said it "makes sense" for Coca-Cola HBC to sell its share of a stake in Bulgarian brewer Zagorka so it can focus on soft drinks.
---

BULGARIA: Heineken's Zagorka switches marketing manager 11 Jul 2013
Heineken's Bulgarian unit, Zagorka, has appointed a new marketing manager.
---

BULGARIA: Carlsberg launches lemon Pirinsko as part of wider investment 6 Jun 2013
Carlsberg's Bulgarian unit is launching a lemon version of its Pirinsko beer as part of a BGN5m (US$3.4m) investment in the brand and its Blagoevrad brewery.
---

Product Re-Launch - BULGARIA: Vinprom Peshtera's Mastika Peshtera 16 Dec 2010
Vinprom Peshtera's Mastika Peshtera
---

BULGARIA: JF Hillebrand targets wine with Bora Shipping buy 23 Jul 2010
Global wine and spirits logistics firm JF Hillebrand has acquired Bora Shipping in Bulgaria.
---
BULGARIA: Advent to acquire majority stake in Devin 24 Sep 2009
US buyout firm Advent International is to acquire around 75% of Bulgarian bottled water company Devin.
---
BULGARIA: Anheuser-Busch InBev lines up Bulgarian investment 21 Jul 2009
Anheuser-Busch InBev has confirmed plans to invest around EUR15m (US$21.3m) in its operations in Bulgaria.
---
BULGARIA: Domaine Boyar re-emerges on international stage 4 Dec 2007
Bulgarian wine producer Domaine Boyar is set to make a return to the international stage.
---
BULGARIA: Heineken's Zagorka invests to increase production capacity 1 Oct 2007
Heineken's Zagorka brewery plans to increase its production capacity as part of its investment programme.
---
BULGARIA: Belvedere opens Bulgarian winery - report 5 Sep 2007
The Bulgarian unit of France-based Belvedere has opened a winery in the country, according to local reports.