Angola: Latest beverage news & analysis
Latest News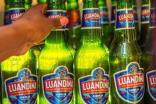 Sociedade de Distribuição de Bebidas de Angola's Luandina lager - Product Launch 18 Dec 2017
Sociedade de Distribuição de Bebidas de Angola (Sodiba) has launched a lager beer brand in its domestic market, designed to compete with market leader Cuca.
---
Pernod Ricard eyes emerging market Millennials in Passport ad - video 18 Feb 2016
Pernod Ricard is targeting aspirational young consumers in Angola and Mexico with a new TV ad for the fast-growing Passport Scotch whisky.
---
AFRICA: Diageo takes Guinness to Angola 30 Nov 2009
Diageo is to launch Guinness in Angola after signing a deal with Unicer, the Portguese drinks importer to the African country.
---
ANGOLA: SABMiller to open $125m brewery 10 Jul 2009
SABMiller is to open a US$125m brewery and soft drinks factory in Angola this year, in the latest stage of the brewer's African expansion plan.