Woodies' CBD Kombucha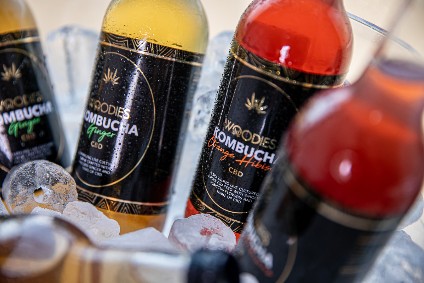 Category - soft drinks, kombucha, CBD-infused
Available - From this month
Location - The UK
Price - SRP of GBP9.99 (US$13) per 3x33cl bottles, GBP34.99 per 12x33cl bottles
A UK company founded by the stepson of Rolling Stone guitarist Ronnie Wood has launched a range of kombuchas containing 10mg of CBD.
Woodies CBD Kombucha is described as a "self-rejuvenating remedy" that combines the health benefits of fermented tea and CBD, a derivative of hemp. Three flavours are available - Ginger, Orange and Hibiscus & Raspberry.
Woodies founder Jamie Wood said the range was inspired by his mother, Jo Wood. "I've always seen her knocking together batches of the stuff," Wood said. "To be able to heighten the health properties and put a Woodies CBD spin on a drink that has been present throughout my life is something I'm incredibly stoked about."
Woodies was founded last year and sells a range of CBD-infused products such as night cream and vapes. Woodies CBD Kombucha is the company's first beverage.
The rise of adaptogens - the continued evolution of health & wellness in soft drinks - Click here for a just-drinks comment
---