William Grant & Sons' Glenfiddich Experimental Series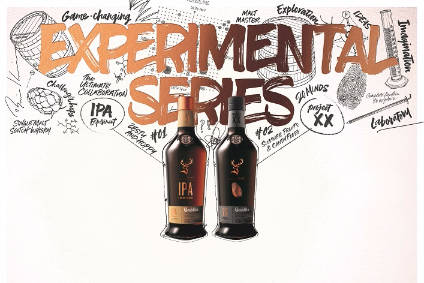 Category - Scotch whisky, see below for abvs
Available - From this month
Location - Global
Price - IPA Experiment, SRP of GBP45 (US$59) per 70cl. Project XX, SRP of GBP50 per 70cl
William Grant & Sons has released two whiskies under its new Experimental Series banner. Glenfiddich IPA Experiment is finished in IPA beer casks, while Project XX was created by 20 of the brand's ambassadors. XX is 20 in Roman numerals
The IPA expression is a collaboration with Speyside Craft Brewery. The beer was created with Glenfiddich's taste profile in mind.
"Glenfiddich's first whisky finished in IPA craft beer casks is testament to us challenging ourselves to produce something vibrant and unusual," said William Grant's malt master Brian Kinsman. "The result is a liquid with a zesty citrus note followed by soft, sweet vanilla and a hint of fresh hops."
Project XX is a collaboration between 20 brand ambassadors from 16 countries, who were tasked with selecting different casks from the Glenfiddich warehouses.
Kinsman said: "The Glenfiddich Project XX we're launching today is a recreation of that initial small vatting. It has the warm summer fruity character of a classic Glenfiddich but then its 'multiple personalities' are revealed as the flavours of candy floss, cinnamon spice, almonds and rich port tannins kick in with the odd hint of liquorice."
The Glenfiddich IPA Experiment carries an abv of 43%, while Project XX is 47%. The whiskies, which are on-going releases, do not carry age statements.
In May, William Grant's UK unit overhauled its Glenfiddich 21 Year Old Gran Reserva single malt whisky packaging
---