Global vodka volumes will continue to shrink in the coming years, according to a new report from just-drinks and The IWSR, with growth confined to higher price points.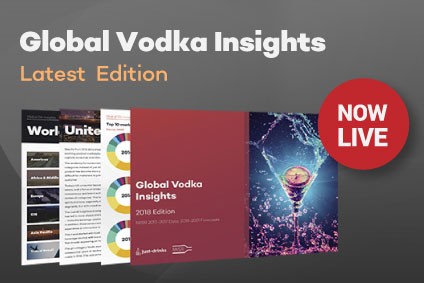 However, while the prognosis for vodka excluding low-price and value products is much more positive than for the category overall, even here growth is set to decelerate - with a forecast 2018-22 CAGR of +1.7%, compared to the +2.3% figure recorded between 2013 and 2017.
Total market losses will be largely caused by continued heavy declines in traditional vodka-drinking nations, says the Global Vodka Insights 2018 report, with Russia forecast to haemorrhage more than 30m cases to 2022 and Ukraine and other CIS countries also set to fall.
Stripping out low-price and value brands, the US continues to dominate the vodka category, accounting for more than half of global volumes. While consumption is set to grow in the coming years, however, the country is likely to lag behind the overall market.
Instead, the most dynamic growth is reserved for relatively small and immature markets, such as Argentina and South Africa, with Brazil, Italy, Romania and Greece also poised to expand quickly.
However, more mature markets, such as the UK, Australia, Ireland and Sweden, are expected to decline, impacted by the continued popularity of brown spirits, and the rise of gin.
"There are clear signs that vodka is failing to fully engage with a new generation of consumers who seek identifiable flavour and authenticity," warns the report.
Global vodka insights - market forecasts, product innovation and consumer trends
---