Unibroue and Megadeth's A Tout le Monde beer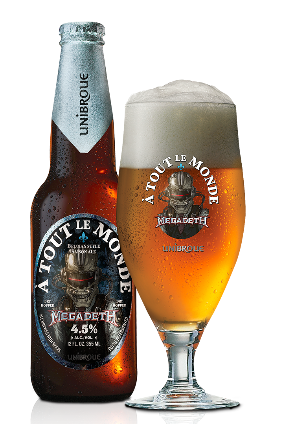 Category - Beer, saison, 4.5% abv
Available - From this month
Location - US and Quebec
Price - TBC
Canadian craft brewer Unibroue has partnered the lead singer of Megadeth to release a beer.
Vocalist Dave Mustaine and Unibroue brewmaster Jerry Vietz are said to have created A Tout le Monde as a symbol of their friendship. A Tout le Monde is a Megadeth song which was released in the mid 1990s.
The ale is a Belgian style dry-hopped golden saison with "hoppy and spicy notes" the company said.
A Tout le Monde is now available in 4x12oz bottles at all Unibroue retailers in the US, as well as on tap in "several bars and restaurants".
Unibroue was founded in 1991. Located in Québec, Canada, it brews around 15 different beer brands.
In June this year, the brewer released a limited-edition Belgian-style blueberry beer. Éphémère Blueberry is served in cork and cage bottles and on draught in selected bars and restaurants in the US and Canada.
---