Uncle Matt's Organic Cold Pressed Fruit Water Probiotics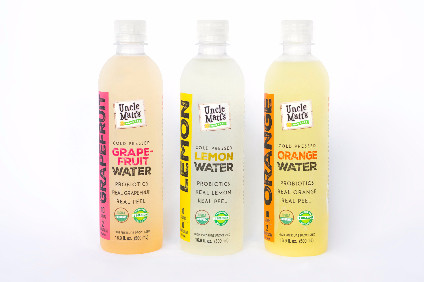 Category - Soft drinks, juices, cold-pressed
Available - From May
Location - US, nation-wide
Price - SRP of US$3.49-3.99
Uncle Matt's Organic is to launch cold-pressed versions of its probiotic flavoured water range.
The US company said the three new flavours - Lemon, Grapefruit and Orange - use cold-pressed, fresh-squeezed organic citrus juice, as well as organic citrus peel. The beverages contain ten calories per serving and two grams of sugar.
"We've created a healthy water, low calorie and sugar beverage that's on-trend, light, refreshing and functional," said Matt McLean, CEO and founder of Uncle Matt's.
Florida-based Uncle Matt's first launched probiotic juices in February 2014 with its Orange Turmeric and Orange Coconut lines. The company claims the bacteria in the products "support a healthy immune and digestive system".
Cold-pressed juices started to hit the mainstream in 2014. The process uses high pressure to destroy pathogens instead of heat - like traditional pasteurisation - preserving heat-sensitive vitamins, enzymes and nutrients while producing a fresher-tasting drink with an extended shelf life.
---