Treasury Wine Estates has expanded the available formats for its Blossom Hill Gin Fizz wine and gin mix to include RTD cans.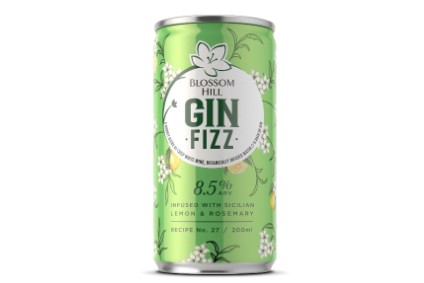 The new 200ml cans for the two variants - Lemon & Rosemary and Rhubarb - will be available at UK supermarket Tesco from this month, with an SRP of GBP2.50 (US$3.20) per can. The 8.5%-abv Blossom Hill Gin Fizz was launched in 75cl bottles last year. It blends wine, botanical-infused water and "a dash" of gin, and has recorded sales of GBP2.5m in its first nine months on the market, TWE said.
"The new can means we can reach new consumers who don't necessarily shop down in the wine aisle, and we hope this will help drive trial of the larger 75cl format," said Ben Blake, head of Europe marketing at TWE.
He added that the RTD format seemed "a natural fit" with the expansion of the wine cans segment, as well as the rise in "on-the-go" formats and "Gin Fizz being synonymous with social occasions".
Heritage and heft won't win hard seltzer's summer showdown - comment
---