The Travel Retail channel is set to offer continued growth for wines and spirits over the coming five years, according to a new report, albeit slightly slower than the preceding five-year period.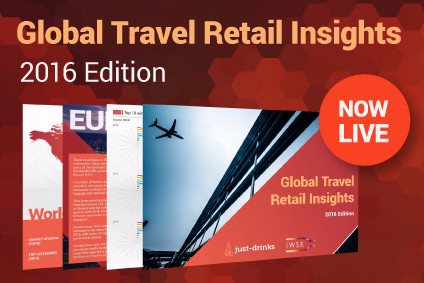 The joint report from just-drinks and The IWSR, published this week, forecasts that wines and spirits sales in Travel Retail will increase by a compound annual growth rate (CAGR) of 2.94% between 2015 and 2020 from 30.29m nine-litre cases to 34.01m, compared with the 3.82% achieved between 2011 and 2014. While whisky, the biggest sector by volume in the Travel Retail liquor market, is expected to show a CAGR of 4.37%, vodka, brandy and rum are set to rise by 2.18%, 2.63% and 3.82% respectively.
"Travel Retail will remain a sector characterised by long-term growth potential and short-term geopolitical challenges, impacted by everything from terrorism to health scares and currency fluctuations," the report states. "The changing Travel Retail landscape is concentrating power in the hands of relatively few retailers, creating a trading environment that is potentially, and paradoxically, both more straightforward and much tougher for all but the biggest brand owners."
The report notes that while the Travel Retail market remains a volatile channel, which is sensitive to geopolitical events, it was benefiting from huge investments in the customer environments in airports and elsewhere, notably in Korea, Cambodia, Japan and China, as well as in cruise terminals.
In spite of significant disruptions in recent years, the sector's "underlying resilience" is illustrated by Airports Council International (ACI) figures that show air passenger traffic growing by 5.1% in 2014.
Global Travel Retail sales of wines and spirits, including pre-mix drinks, rose by only a modest 1.8% in 2014, reaching 30.2m nine-litre cases, although value trends were "more positive", with revenues (excluding still light wine and mixed drinks) rising by 7.7% to reach almost US$9bn.
All regions posted "healthy growth" in Travel Retail liquor sales in 2014, except for Europe where volumes declined by 0.7%. Europe remains the largest region in volume terms for drinks sales in the retail sector, but 2014 saw its global market share fall from 54% to 52.7%.
Other regions are compensating for this decline, however. The Americas recorded volume and value growth of 4.4% and 12.2% respectively, while Asia Pacific saw a recovery from 2013, with volumes up by 2.9% and values rising by as much as 6.8%.
The fastest year-on-year growth in 2014 was achieved in Africa and the Middle East, where Travel Retail liquor volumes were up by 9% and retail values by 16.2%.
---