Tongue in Peat peated tomato juice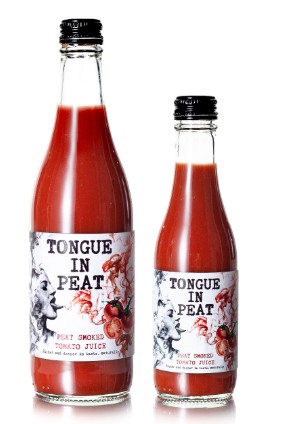 Category - Soft drinks, mixer, tomato juice
Available - From this month
Location - Globally, available online
Price - In the UK, SRP of GBP2.45 (US$3.10) per 25cl bottle, GBP4.79 per 50cl bottle
A former Beam Suntory employee has created a tomato juice that has been smoked with burning peat from the Scottish island of Islay.
Hannah Fisher, who used to manage the global marketing for the drinks giant's single malts, has co-founded The Start-Up Drinks Lab and launched Tongue in Peat. Available online in two bottle sizes, the tomato juice is designed to work well in a Bloody Mary.
"I've always loved the influence of peat smoke in single malt whisky and being a huge fan of Bloody Mary's, I have been looking for ways to combine the two," said Fisher. "After lots of experiments at home to find the right length of smoke time and the best region of peat to use, we finally landed on the recipe for Tongue in Peat that delivered the smoky, flavoursome punch we were looking for.
"Each batch tastes slightly different as we only use tomatoes that are in season so we label each of our batches to help our drinkers spot the subtle variations per batch."
Fisher left Beam Suntory three years ago.
Why the gin category has Fever-Tree to thank for breaking the US - Click here for a just-drinks comment
---