A UK start-up is aiming to capitalise on the growing trend for drinking cocktails at home with the launch of a premium pre-mixed cocktail range made using only "artisan" spirits.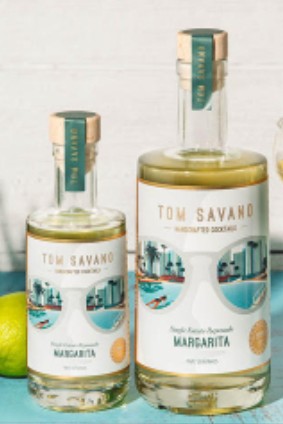 Tom Savano Handcrafted Cocktails, which was founded by James Kerslake, comprises a five-strong line with abv's ranging from 18% to 22%. They are available in the UK for next-day delivery, priced at GBP12 (US$15.50) per two-serve bottle, or GBP27 for a five-serve bottle.
The range consists of: a Devon Coast Negroni, using Salcombe Gin; a Single Estate Reposado Margarita (Ocho Reposado Tequila); an English Garden Lychee Martini (Jelleys Organic Elderflower Vodka); a Caribbean Dawn Mai Tai (Pussers Blue Label rum), and a Kentucky Winter Old Fashioned (Maker's Mark Bourbon).
"I wanted to really push the boundaries and redefine the perception of premixing cocktails," said Kerslake. "Cocktails to me are all about a story, the origin of the spirit you use and the history behind every single ingredient, down to the smallest detail, and what it evokes in your mind when you drink it."
The coronavirus has forced spirits brand owners to consider the at-home cocktail trend in recent months. Speaking to just-drinks earlier this year, Beam Suntory CEO Albert Baladi said: "What is working well, particularly in a lockdown situation, is canned cocktails. This is really a sector that is developing and it's a premium part of the ready-to-drink market."
How COVID has driven at-home indulgence - consumer trends
---