The House of Botanicals' Pietro Nicola Pescaro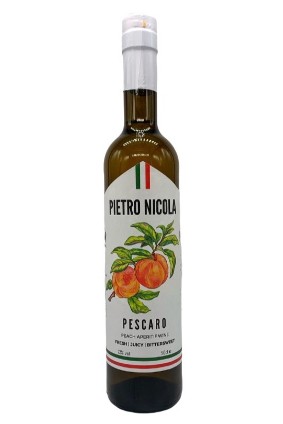 Category - Spirits, fortified wine, Italy, 22% abv
Available - Since last month
Location - The UK
Price - SRP of GBP25 (US$31.50) per 50cl bottle
Scotland-based The House of Botanicals has added a third expression to its Italian-inspired spirits brand, Pietro Nicola.
Pietro Nicola Pescaro is a peach aperitif wine and the fourth in the company's range, which includes: Nocino (green walnut liqueur), Caffè Margaux (barrel-aged coffee spirit) and Shakerato (bottled Espresso Martini). A vermouth expression has been lined up to be released in the coming months.
The addition is available in the UK online through Amazon and the company's website, with selected retailers to follow.
The 22% abv drink is made of English peach wine that has been fortified then blended with eight herbs, spices, citrus fruits and flowers, as well as two bitter botanicals. Pescaro takes its name from the Italian words pesca, meaning 'peach', and amaro, which means 'bitter'.
The House of Botanicals also produces Old Tom Gins and Dr Adam's Cocktail Bitters.
When contacted by just-drinks, founder Adam Elmegirab said that the start-up has plans "to take the offering further with launches across Europe and the far east."
Why the wine consumer is getting angry and what you should do about it - Click here for a just-drinks comment
---