The Coca-Cola Co's Innocent Super Smoothies Light - Product Launch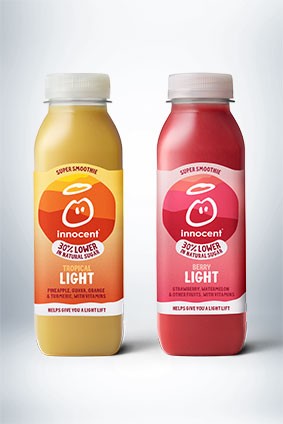 Category - Soft drinks, juice
Available - From this month
Location - The UK, available from selected off-premise stores
Price - SRP of GBP1.99 (US$2.74) per 30cl bottle, GBP3.99 ($5.49) per 75cl bottle
The Coca-Cola Co has launched a low-calorie extension to the Super Smoothies range of its Innocent brand in the UK.
Earlier this week, the group's UK division announced two Super Smoothies Light flavours - Berry Light and Tropical Light. Each 30cl serving, which is made using 100% fruit, contains 120 calories as well as four B vitamins. The pair are available in 30cl and 75cl formats in UK retailer Tesco.
The 75cl bottlings are also available from Morrisons, Waitrose and Sainsbury's supermarkets.
In July, Coca-Cola was forced to defend accusations of "false virtue" by a UK Government-commissioned report into the sugar content of Innocent's lemon & lime-flavoured Juicy Water.
Why energy and functional drinks should be wary of coffee's renewed attack on the caffeine occasion - click here for a just-drinks comment
---