The Coca-Cola Co has launched new packaging in the US to commemorate the Houston Astros' 2017 World Series win.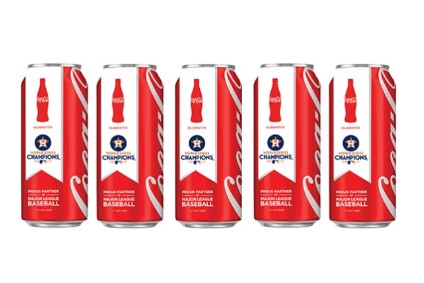 The limited-edition 16oz can, which was announced the day after the Astros beat the Los Angeles Dodgers in Game 7 last week, features the World Series Champions mark alongside the Astros logo. The move is part of Coca-Cola's Major League Baseball sponsorship, which it signed in April.
Coca-Cola's MLB partnership replaced PepsiCo's almost two-decade sponsorship of baseball in the US and was the latest in a flurry of sporting change-ups for soft drinks' biggest rivals. In 2015, Coca-Cola ended its 28-year sponsorship of the National Basketball Association when PepsiCo stepped in with a reportedly bigger deal. On the same day, Coca-Cola Co signed a sponsorship deal with US soccer.
The Astros beat the Dodgers 5-1 in the final game of an exciting World Series that twice went to extra innings, including in a 13-12 Game 5.
---