The Coca-Cola Co's UK unit has overhauled its Coca-Cola packaging in a bid to encourage more consumers to try its zero-sugar variant.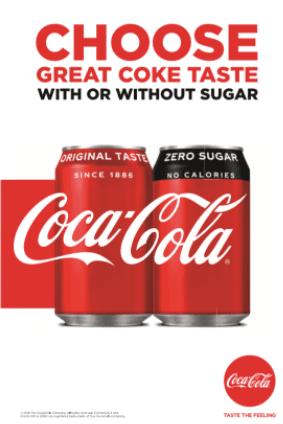 The new design unifies Coca-Cola Zero Sugar with the core Coke full-sugar brand by making them the same colour. From September onwards, bottles and cans of both variants will be red with only a coloured band across the top and differentiated cap to denote whether it is the sugar or non-sugar version.
The new packaging will be rolled out throughout the world, and has already been introduced in countries including Spain and Mexico.
In the UK, a GBP5m (US$6.4m) campaign will support the redesign alongside a Coca-Cola Zero Sugar sampling activation will see seven million cans sampled by the end of the year.
Will Coca-Cola Co turn its whole Coke trademark stable red? Click here for a comment from 2016
Simon Harrison, customer marketing director for Coca-Cola's UK bottler, Coca-Cola European Partners GB, said: "Sales of Coca-Cola Zero Sugar have almost doubled in the last two years and we believe this latest change will help us grow it even further and encourage more people to give it a try."
The packaging change follows a number of modifications for the Coke range in the UK over the past few years. Coca-Cola Zero was relaunched as Coca-Cola Zero Sugar in 2016, with the previously all-black packaging brought more into line with the existing regular Coca-Cola. The Zero Sugar packaging featured a red disc in the middle of the black background.
Is SodaStream the 'twofer' solution PepsiCo is looking for? - Click here for a comment
---