The Coca-Cola Co is taking its Schweppes brand into the UK premium tonic category, pitting the soft drinks giant against fast-growing Fever-Tree.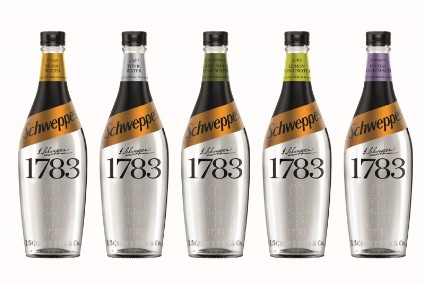 The company is launching six premium Schweppes extensions, created in partnership with bartenders and including flavours such as Salty Lemon Tonic Water and Quenching Cucumber Tonic Water. The range, called Schweppes 1783, is part of a GBP6.6m (US$8.6m) marketing campaign for the brand that aims to highlight its 234-year history. The drive also includes a new skittle-style bottle for the Schweppes Classic variant in the UK.
Schweppes 1783 will be packaged in the same skittle bottle but with a golden Schweppes sash and black livery. Coca-Cola said the range, which launches next month, will appeal to a "new age of mixer drinkers".
Other variants in the brand's high-end extension include Crisp Tonic Water, Light Tonic Water and Golden Ginger Ale, all of which will be available in 20cl bottles. Salty Lemon Tonic Water, Quenching Cucumber Tonic Water and Aromatic Floral Tonic Water will be in 60cl bottles.
Coca-Cola said 2017 will "mark a new chapter in Schweppes's 234-year history, with the new skittle-style bottle providing a "premium exterior". The bottle is modelled on the original Schweppes skittle, which was blown and formed in a single piece by inventor Jacob Schweppe in 1783.
The UK premium tonic market has heated up since Fever-Tree entered the category in 2005. The company, launched by Tim Warrillow and Charles Rolls, has seen sales soar recently. In H1 results in July, Fever-Tree more than doubled net profits as sales jumped by 77%. The gains followed profits and sales leaps in FY 2016 and 2015 and continued a share spike for Fever-Tree that has seen its stock increase 11-fold since January 2015.
---