The Coca-Cola Co's Japanese unit is continuing to lead the company's innovation with the launch of the first Coca-Cola frozen drink.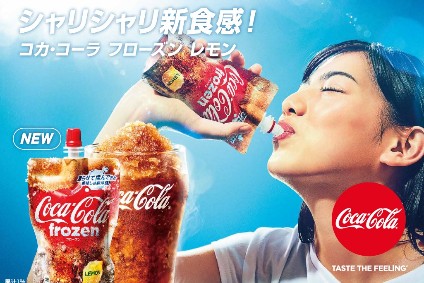 Coca-Cola Frozen Lemon rolled out today in squeezable pouches and is described as having a "sherbet-like" texture. Coca-Cola Japan said the beverage is "perfect for summer", and has set an RRP of JPY130 (US$1.20) per 125g pouch.
Coca-Cola Frozen Lemon is available for purchase across the country at supermarkets, convenience stores, volume retailers and drugstores. It will be sold in freezers and not in the beverage aisle, according to Coca-Cola.
The new product is the first ready-to-drink frozen beverage to come out of Coca-Cola's global system and follows the announcement of the company's venture into alcohol with a spirit-and-soda RTD. Both beverages were developed in Japan, which is a hotbed of innovation for Coca-Cola. The Japan unit has also developed a high-fibre Coke specifically for Japanese consumers.
---