The Coca-Cola Co is to include Coca-Cola Life in its US Share A Coke marketing campaign for the first time.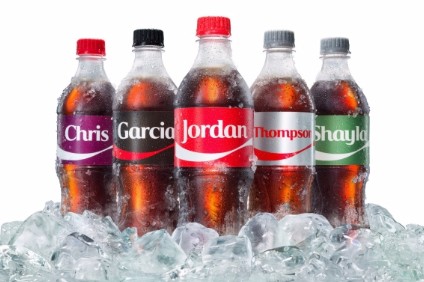 The stevia-based brand, which is being pulled from shelves in other regions, will feature alongside fellow débutante Cherry Coke in an expanded Share A Coke push, Coca-Cola said this week. Share A Coke replaces the brand Coca-Cola logo with popular first and last names.
The latest US version of the campaign will roll out across the Summer and feature more names than before. Coca-Cola said more than 1,000 first and last names are available this year, with nearly 200 last names included.
The US support for Coca-Cola Life is in contrast to other Coca-Cola markets. This month, the company announced it would discontinue the mid-calorie soda in the UK. In Mexico, Coca-Cola Life has already been removed from shelves, while in Australia and Brazil it has been renamed Coca-Cola with Stevia.
The Share A Coke activation swept around Coca-Cola's global markets after first launching in Australia and was praised for lifting Coca-Cola sales, especially among younger consumers. The initial campaign expanded to include generic names such as "sister", "dad" and "best friend". A subsequent campaign used lyrics from popular songs.
News of the latest US campaign follows Coca-Cola's announcement this week that the European version will feature the names of famous holiday hotspots such as Hawaii, Bali, Ibiza and Miami.
---