The Coca-Cola Co is to test a Dasani-branded water fountain that provides filtered water for nothing, but charges for flavour and carbonation.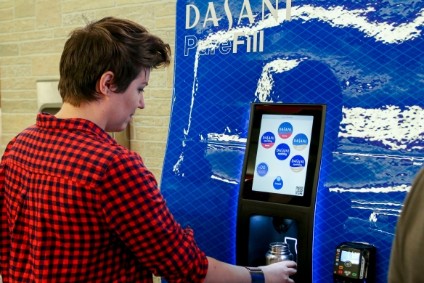 The Dasani PureFill station will be installed on the campus of Georgia Institute of Technology next week, Coca-Cola said. It is the result of a sustainability forum held by Coca-Cola North America's R&D team last summer.
PureFill is paired with a smartphone app, which locates the nearest machine, and a cashless payment system. Coca-Cola said this feature tested well with Millennial consumers, who also liked the link with the Dasani brand.
"Young people, especially college students, always have two things with them throughout the day - a water bottle and a smartphone," said Jeffrey Busch, director of equipment commercialisation for Coca-Cola North America. "We're trying to dial in to those habits and add value to a water brand they know and love with a unique solution for on-the-go hydration."
Two flavours are available - Berry and the exclusive Peach-Ginger. Coca-Cola said it is considering adding more flavours as well as vitamins and protein for a more personalised experience.
Some US schools and universities have implemented soda bans on campus amid growing obesity fears. In the past few years, Coca-Cola has increased its no- and low-sugar offerings while also focussing on its bottled water brands.
---