The Coca-Cola Co has joined an increasingly crowded trend for patriotic packaging in the US with a salute to the country's military.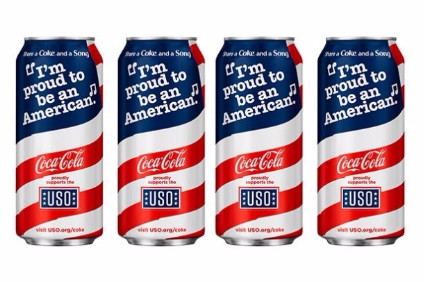 The company will mark the Memorial Day holiday this weekend with limited-edition cans of Coca-Cola featuring the lyric "I'm proud to be an American". The star-spangled cans will be available at convenience stores in the US through to Independence Day on 4 July.
The launch follows Coca-Cola's addition of music lyrics on Coke packaging earlier this year. However, it shares the same plea to patriotism as other recent releases from two of the biggest alcohol producers in the US.
This month, AB InBev received a lot of attention for changing the name of its Budweiser beer to "America" for a US Summer that will include the Rio Olympics as well as the run-up to November's presidential election. This week, Diageo unveiled Smirnoff Red, White & Berry - a play on the red, white and blue of the US flag - saying that the vodka celebrates "freedom and bring[ing] everyone together under one party".
Coca-Cola said the new cans are a tribute to US Armed Forces members and the United Service Organizations (USO), which Coca-Cola has partnered with throughout the charity group's 75-year history.
The USO provides support and entertainment for US soldiers and their families.
---