The Chapel Gate's JJ Corry The Battalion mezcal and Tequila-influenced Irish whiskey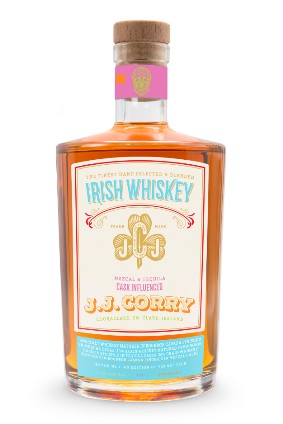 Category - Irish whiskey, 41% abv
Available - From this month
Location - UK
Price - EUR65 (US$73) per 50cl bottle
Distribution - Axiom Brands
Irish whiskey bonder The Chapel Gate has launched a blended Irish whiskey under its JJ Corry brand made using Tequila and mezcal casks.
The Battalion is a blend of nine-year-old grain whiskey and 13-year-old malt. However, to influence the flavour, Chapel Gate decanted grain into mezcal and Tequila casks and malt into mezcal casks to mature for seven months. It then vatted a grain Tequila/mezcal blend to impart notes of agave.
Chapel Gate founder Louise McGuane said: "We take inspiration from the work of artisanal spirit producers around the world. The best mezcal and Tequilas are, at their heart, produced in rural locations by families, with whom we share a significant affinity with given our approach to whiskey making on our family farm on the west coast of Ireland."
According to McGuane, Battalion is the first Irish whiskey made using Tequila and mezcal casks. The first batch comprises 700 bottles. A second batch is in cask.
Is Conor McGregor's Irish whiskey a threat to Pernod? - Analysis
---