Strong performance for The Boston Beer Co's non-beer portfolio signals better times ahead for the brewer, an analyst has said.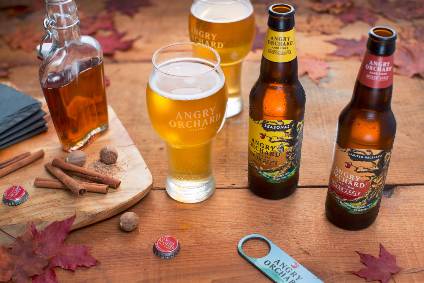 Boston's cider and flavoured malt beverage (FMB) trends "look surprisingly strong" in the latest US Nielsen data, Cowen & Co's Vivien Azer said in a note today, with brands such as Twisted Tea and Angry Orchard delivering double-digit sales growth. The increases will be welcomed by Boston Beer, which has seen increased competition in craft hamper beer sales.
According to Azer, citing Nielsen data, Boston's Angry Orchard cider grew sales by 19% in the four weeks to 24 March. In the same period, alcoholic iced tea Twisted Tea posted another month of double-digit growth as sales jumped 27%. Overall, Boston's FMBs were up 30% over the year-prior. Boston's alcoholic seltzer, Truly Spiked, was a strong contributor, adding 3.4 percentage points of growth to Boston's total top line in the four-week period.
Azer said the performance meant there was "more limited downside" to Boston's shares. The analyst upgraded the company from "underperform" to "market perform".
Boston's beer sales continued to struggle. In the 12 weeks to 24 March, dollar sales for Boston's beer brands were down 6.7%.
Boston Beer released its full-year results last month, with sales for the company down 5%. The slide marked a slight improvement on the first half of the year, when sales were down by 6%.
Also last month, Boston named former PepsiCo executive Dave Burwick as its next CEO. Burwick will take over Boston Beer at a challenging time. Volumes have been in decline for the past two years as previously fast growth in the US craft beer market decelerates. Leading craft brewers such as Boston Beer have been hit hardest by the slowdown, with craft-style brands owned by Anheuser-Busch InBev also affected. In September last year, analysts at Credit Suisse said there was a "fair probability" Boston Beer would be sold within the next 12 months, with Molson Coors the likeliest suitor.
---