Thatchers Cider's Thatchers Rosé Cider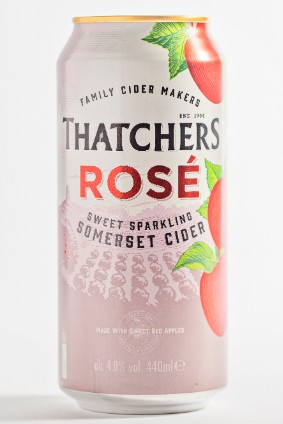 Category - Cider, rosé, 4% abv
Available - From this week
Location - The UK, off-premise, initially from Sainsbury's nation-wide
Price - RRP of GBP5.50 (US$7) per 4x44cl cans
Thatchers Cider has added a permanent extension to its range in the UK, with a relaunch of its rosé variant in the country. Ten years after releasing what the family-run company claims was the market's first rosé cider, the expression will join Thatchers Gold and Thatchers Haze on the company's 'Family Favourites' roster.
Available in four-packs of 44cl cans, in cardboard "carry-packs", Thatchers Rosé will also roll out in 50cl bottles next month.
"Thatchers Rosé … gives consumers just what they're asking for - a great tasting, characterful, sweeter, lower abv cider,," said fourth-generation cidermaker Martin Thatcher. "Now is definitely the right time to introduce this new cider. It comes with our longstanding Somerset family cidermaking heritage, but meets the needs of today's cider consumer through taste, quality, provenance and sustainable packaging."
Earlier this year, Thatchers announced plans to expand production capacity through a GBP14m spend at its cider mill in Somerset, in the south-west of England.
Do consumers know about beer terminology as well as you do? - Click here for a just-drinks comment
---