Team Tenzing's Tenzing Blackberry & Acai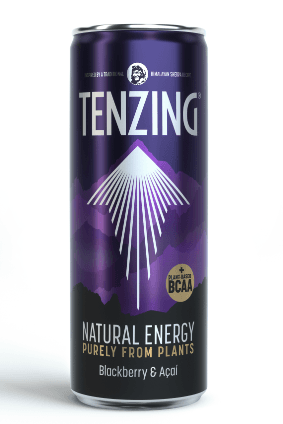 Category - Soft drinks, "natural" energy drink
Available - From next month
Location - The UK
Price - TBC
Team Tenzing, the UK natural energy drink company founded by a former Red Bull executive, has added a new flavour to its namesake range.
Tenzing Blackberry & Acai is the brand's first blend to include branched-chain amino acids (BCAAs) to increase stamina and aid sports recovery, the company said. The beverage also comes in a 33cl can, compared to a 25cl can for the other two SKUs in the Tenzing range.
The first Tenzing energy drink launched in 2016 and a Raspberry & Yuzu flavour last October.
Team Tenzing founder Huib van Bockel said the launch of the latest flavour has been brought forward because of the coronavirus lockdown. "Since lockdown, more people than ever have taken up a new sport, exercise regime or fitness challenge, which made us think people need this drink now more than ever," said van Bockel, a former marketing director for Red Bull.
Coronavirus COVID-19 and the global drinks industry - just-drinks timeline
---