Nine-month net profits for the group climb 9% to JPY32.1bn (US$260.7m)
Net sales up 11% to JPY1.97tn
Operating profits increase 12%% to JPY130.6bn
Beam Suntory sales up 36%
Beam Suntory upped sales by 36% in the first nine months of the year to drive growth for owner Suntory Holdings.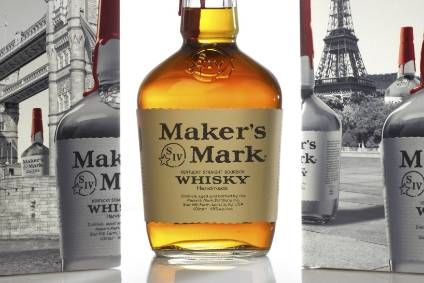 The spirits unit, which was formed when Suntory bought Beam Inc last year, saw strong growth in its whisk(e)y portfolio, with Maker's Mark, Knob Creek and Hibiki driving "especially strong" volumes growth, the company said last week. Sales were up in North America, while at Suntory's spirits unit for Japan, Suntory Spirits, sales were up 8% in the year to date.
The performance saw Suntory's overall nine-month net profits climb by 9% to JPY32.1bn (US$260.7m). Net sales were up 11% to JPY1.97tn in the same period while operating profits increased 12% to JPY130.6bn.
Suntory's soft drinks and snack unit also increased sales for the nine months, up 8% to JPY1.02tn, while profits climbed by 7% to JPY84.1bn.
Beer volumes for Suntory Beer were mainly flat against an overall market drop of 1%, Suntory said. Suntory's wine unit, Wine International, grew sales by 5% year-on-year.
Suntory also operates non-beverage business units, including Suntory Wellness, Dynac Corporation and Häagen-Dazs Japan. Combined sales for the units were down 8% at JPY227.7bn, while profits remained flat at JPY24.2bn.
To read the company's full results, click here.
---