Still Austin Whiskey Co's straight Bourbon whiskey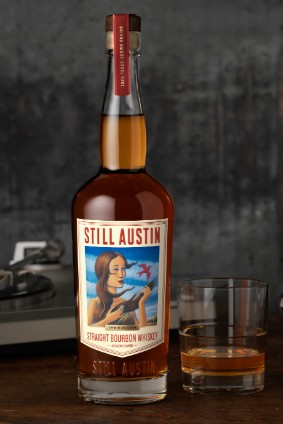 Category - Spirits, whiskey, Bourbon, US, 49.2% abv
Available - From this month
Location - The US, initially online at official website, then available across Texas in the off-premise
Price - SRP of US$45 per 75cl bottle
Texas-based craft distiller Still Austin Whiskey Co has announced details of its namesake straight Bourbon whiskey.
With availability limited to the company's home state, the expression, which has been aged for "at least" two years, is made using grain grown in Texas. Still Austin straight Bourbon whiskey has a mash bill of 70% non-GMO white corn, 25% Elbon rye and 5% wildfire malted barley.
The Bourbon's packaging features portraits of "archetypical" residents of Austin. First up will be 'The Musician', followed by 'the Naturalist', 'the Writer', 'the Visionary' and 'the Artist'.
"After six years of hard work and perfecting our technique, we're ready to launch our new flagship straight Bourbon whiskey," said company CEO Chris Seals. "We started Still Austin Whiskey Co because we saw an opportunity to create our own kind of distillery where we do everything intentionally. This Bourbon is an expression of true Texas terroir, but also the distillation of all we are, and of all that has created us. We've managed to bottle the inclusive spirit of our home city; a complex Bourbon with substance, flair and finesse."
Founded in 2015, Still Austin Whiskey Co's portfolio includes a high-rye Bourbon as well as a still rye gin.
Why craft whiskey will never be the same again - Click here for a just-drinks comment
---