St Peter's Brewery's St Peter's Without alcohol-free beer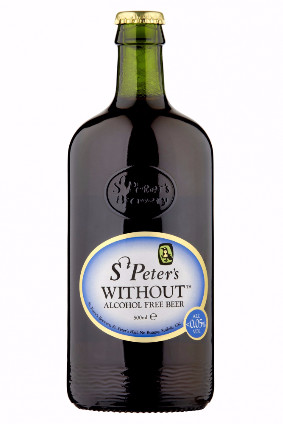 Category - Beer, less than 0.05% abv
Available - From this month
Location - UK; on trial in JD Wetherspoon and Stonegate pubs and available at 1,300 Nisa Stores nation-wide
Price - TBC
The UK's St Peter's Brewery has launched alcohol-free beer St Peter's Without, the result of a GBP1m (US$1.3m), three-year investment in a new production process.
St Peter's, based in Suffolk, said the process uses both fermentation methods and the stripping out of residual alcohol to leave a full-bodied 0% abv beer with the same distinctive taste as the brewer's craft ales. The company said Without contains less alcohol than a glass of orange juice and is at least 25% lower in calories than standard beer.
Steve Magnall, CEO of St Peter's Brewery, said: "Pubs and bars are crying out for an excellent quality, full-bodied alcohol-free beer that drinkers will take seriously. Without really is a fantastic alternative."
Magnall predicted alcohol-free beer is set to account for 10% of the UK beer market within ten years. "We want to be at the forefront of this growing sector," he said.
Companies are increasingly targeting non-alcoholic and low-alcohol categories as health and wellness trends push consumers to seek alcohol alternatives. Last month, Diageo CEO Ivan Menezes said he wants to be in the vanguard of the growing category.
---