Square Root Soda's Non-Alcoholic Gin & Tonic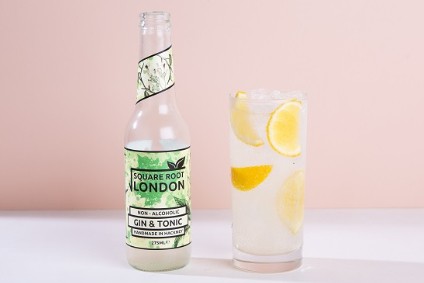 Category - Non-alcoholic spirits
Available - From December
Location - UK and Paris
Price - GBP1.80 (US$2.30) per 27.5cl bottle
London craft soda company Square Root Soda has launched its first non-alcoholic spirit RTD.
Square Root Soda's Non-Alcoholic Gin & Tonic contains distillations of a number of botanicals including juniper, cubeb pepper, cardamom, liquorice, angelica, coriander and Persian dried lime. The company said the process, carried out at its Hackney headquarters in East London, is the same method as the one used to make perfume.
The distillate is then extracted and blended with the Square Root Soda Tonic Water.
Non-Alcoholic Gin & Tonic joins the Square Root Soda portfolio, which includes its core range of sodas, seasonal sodas, tonic waters, shandies and limited-edition collaborations. One collaboration, with neighbouring spirits maker East London Liquor Co, was launched in October - a gin aged in cider barrels and barrels of Square Root's ginger beer.
Former Diageo innovations exec says route-to-market critical as Cafe Agave Spiked Cold Brew expands launch
---