The "remarkably resilient" Scotch whisky category is poised to stage a strong recovery over the next few years, buoyed by a resurgent blends market and continued growth for single malts.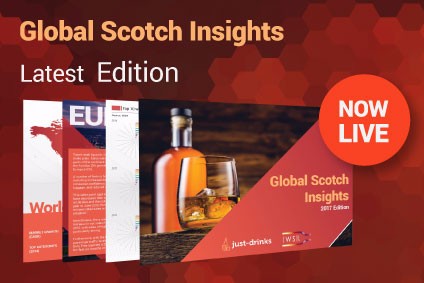 According to the latest joint Global Scotch Whisky Insights report from just-drinks and the IWSR, published this week, the past few years of category decline will be forgotten as blends break through the 90m-case barrier by 2020. This expansion will be driven by explosive growth in markets including Mexico, India, Global Travel Retail and, especially, Poland - where blended Scotch volumes are set to double by 2021.
Meanwhile, single malts will continue their march, with impressive growth set to persist throughout the forecast period, particularly in the US, Canada, Japan, China and India. Only constraints on supply will offer any barrier to their success.
However, some mature blended Scotch markets, including the UK and France, will remain stubbornly static. Concerns remain, meanwhile, that the competition from other spirits categories is increasingly fierce.
"Scotch is beginning to lose ground to its rivals, thanks to a number of factors, including generational trends and a failure to connect with the new generation of Millennial consumers," the report says.
The much-vaunted 'premiumisation' trend continues to drive success in many markets, but another consumer driver is increasingly important to Scotch: so-called 'mainstream-isation'.
As consumers battle difficult economic conditions and look for better value for money, some are trading down from premium brands to less expensive products; meanwhile, in developing markets, people are increasingly trading up from cheap local spirits to mainstream - largely standard and value - Scotch brands.
Much of the innovation in terms of new product development is coming from single malt Scotch these days, but blends are beginning to make inroads here, including innovations such as Johnnie Walker Blender's Batch.
The report also expects the category to make greater use of its inherent diversity in the years to come, as producers develop more blended malt and grain whisky products alongside traditional blends and single malts.
---