Chilean wine company Santa Rita has agreed a three year partnership with Arsenal Football Club to become the first official wine partner of the Premier League team.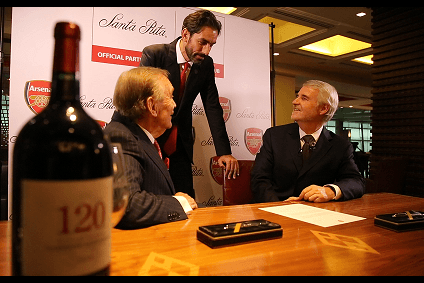 The deal will highlight the company's 'Living la Vida 120' marketing campaign, fronted by its 120 wine brand. Santa Rita said the tie-up would promote its wines in key markets Latin American, Asia, Europe and Africa.
According to the wine producer, the deal includes access to Arsenal's first team players as well as the club's online platforms.
Executive vice chairman of the Santa Rita Estates board of directors, Baltazar Sánchez, said the sponsorship opens up "new possibilities for the Chilean wine industry" as well as a platform from which the company can reach consumers around the world. "As two widely recognised global brands Santa Rita and Arsenal share many common values," he added.
Financial terms of the deal were not disclosed.
Recent research has suggested Chilean wine is becoming more popular in Japan, overtaking France as the preferred wine among regular consumers.
---