RTDs remain one of the healthiest and most dynamic beverage sectors, but growth is decelerating as sales soften in the US, according to a new report.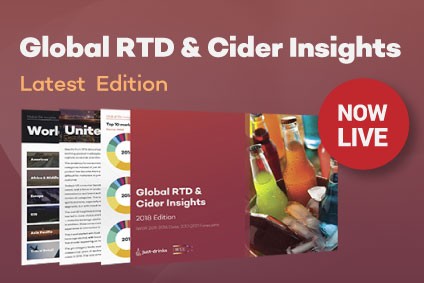 While the global RTD market is forecast to add another 33.7m cases between 2016 and 2021, the compound annual growth rate (CAGR) of 1.6% represents a deceleration of the 3.5% CAGR recorded between 2012 and 2016, according to the just-drinks/IWSR Global RTD & Cider Insights 2018 report. The RTD sector derives 62% of its value and 60% of its volume from three markets - Japan, the US and Australia - and, while Japan is still buoyant, Australia has slipped back in recent years, while the US is forecast to shed 12.7m cases by 2021.
As well as Japan, strong growth is forecast for Brazil, China and Mexico, plus a slew of smaller markets such as South Africa, India, Ghana and South Korea.
RTDs are performing particularly strongly in emerging markets, thanks to their affordability, says the report: "RTDs allow emerging market consumers to enjoy the status of an international brand name such as Smirnoff at a fraction of the bottle price."
Meanwhile, cider is growing in an array of markets and is very much competing with RTDs in terms of drinking occasions and typical consumer appeal. Its success illustrates the increasingly-significant phenomenon of "category blur", with the lines between beverage categories increasingly unclear as they target the same demographic groups and drinking occasions.
---