A new report from William Grant & Sons has underlined the ongoing strength of the UK's gin boom, revealing that the category accounted for two-thirds of all spirits sales growth in the past year.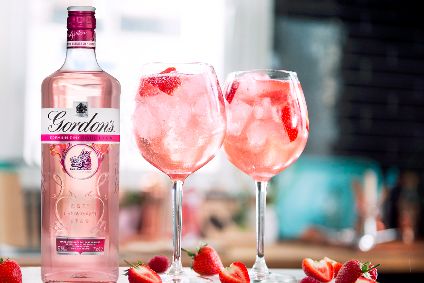 Gin added almost GBP350m (US$460m) to UK spirits sales in the 12 months to 24 February, boosting the gin category to GBP1.46bn in value, according to William Grant's 2018 Market Report. In comparison, total spirits growth was up just 5.3% to GBP10.5bn, or an extra GBP557m.
The growth for gin follows some strong years for the category in which an increase in the number of UK gin distilleries has helped propel growth. William Grant said there are now 300 in the country, twice as many as in 2013.
Innovation has also driven demand. The pink gin category, kick-started by the launch of Gordon's Premium Pink in 2017, has grown in size since then, with a raft of new releases. Many are looking for the same success as Gordon's Premium Pink, which in its first eight months reached GBP28.7m in sales, making it one of the biggest spirits NPD launches of the past decade, William Grant said.
The William Grant market report is published every year and gives a snapshot of the UK spirits market as well as highlighting emerging trends. This year, the report forecasts that data use and technology will continue to evolve to give consumers real-time advice on what brands they should purchase to reach their health-and-wellness goals. Wearable technology will become more popular, meaning that shoppers will be "always optimised", with future gadgets including headphones that "constantly whisper advice in our ears about the best products to try".
Other takeaways in the report include:
Total premium spirits (+GBP23 per 70cl) up 15% to GBP1.4bn
Premium spirits accounted for 12% of all spirits value sales and 35% of all spirits value growth over the past year
Almost 70% of premium spirits sales come from the on-premise channel
The report uses data from a range of sources and 12-month figures are calculated on a monthly average total to 24 February 2018.
Gin is also expected to grow strongly outside of the UK. Over the next four years, the category is poised to be the second-fastest-growing international spirits category behind whisky, with a particular emphasis on premium-and-above price segments.
---