Rebel Coast Winery's marijuana-infused Sauvignon Blanc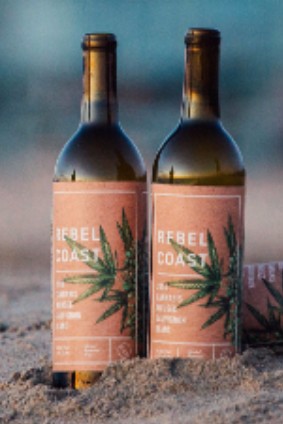 Category - Zero alcohol wine, California, Sauvignon Blanc
Available - Early-2018
Location - US, California, also available to pre-order online
Price - US$59.99 per bottle
Sonoma-based winery Rebel Coast has released details of what it claims to be the world's first legal, cannabis-infused, alcohol-removed wine expression. Rebel Coast Sauvignon Blanc will be available from January, initially just in California.
The zero-alcohol expression contains 4mg of THC per serving that affects the average consumer in under 15 minutes, according to the company.
"Winemakers have been making infused wine for years," said co-founder Alex Howe, "but no-one developed a reliable method to remove the alcohol and infuse it with cannabis' active ingredients in a way that wasn't impacting the quality of the wine. Our infused wine is a premium product that we believe will be a hot, new dinner party trend across California and soon, the US.
"We also wanted to mimic the traditional wine drinking experience by incorporating a modest amount of THC in each serving with a quick effect."
Marijuana for recreational use is set to become legal in California at the start of next year.
---