A new RTD gin launch from Quintessential Brands aims to capitalise on the growing number of outdoor drinking occasions this Summer, a new report from GlobalData has said.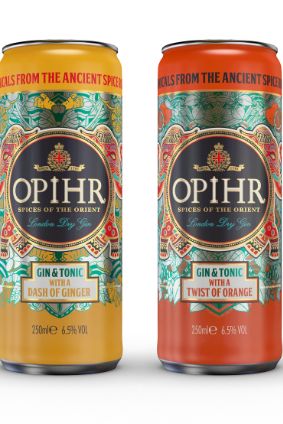 The Opihr Gin RTD, launched this month, pairs Opihr London Spiced Dry Gin with a tonic and is offered in two flavours, a Dash of Ginger and a Twist of Orange. The RTD has an abv of 6.5% and comes in a 25cl can.
GlobalData said that as a consequence of the COVID-19 pandemic, consumers are continuing to avoid indoor pubs and bars, instead turning to outdoor spaces to drink socially with friends. GlobalData's Coronavirus COVID-19 Recovery Survey Tracker, Week 3, Global, found that 50% of consumers are likely to spend the same or more time, socialising with friends and family outside.
"Opihr has recognised this shift in consumption occasions, leveraging their strong positioning to capitalise on the growing number of outdoor drinking occasions," GlobalData said.
The brand has offered a 5cl version of the drink in a glass bottle for about two years now, however the change of packaging to can format allows for easier on-the-go consumption.
Furthermore, Opihr's new release will also look to partly solve a problem for operators, according to Quintessential Brands.
Quintessential's UK marketing director, Russell Kirkham, said: "With bars and restaurants still navigating how to operate safely and effectively under the latest COVID-19 rules, premium RTDs also provide on-trade outlets with an efficient way of serving quality drinks safely, without the need for glassware."
GlobalData said that although the new product release highlights the Opihr brand's responsiveness to the current COVID-19 pandemic, it also suggests a new focus on their product positing in the long-term.
"Releasing an RTD product in the current climate is a great way to gauge consumer interest in the long-term," GlobalData explained.
The company added: "Demand for portable drinks across the beverage industry is well developed now, but the demand is also beginning to materialize in the alcoholic drinks sector. With current external forces further intensifying this demand, new RTD launches which fail to generate interest from consumers are dead in the water.
"Opihr's new release looks to counter the short-term decline across pubs, clubs, bars and foodservice channels by way of releasing new products in-line with consumer demand and behavior. The product looks set for success, at least in the short-term. What we are yet to see is whether that success will translate into a new long-term approach from the brand."
COVID-19 a double-edged sword for CBD product launches - Click here for a GlobalData analysis
---