Purity Soft Drinks' Juiceburst Skinny flavours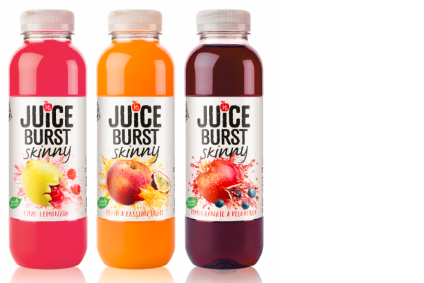 Category - Soft drinks
Available - From this month
Location - UK
Price - "Price-matched against branded fizzy drinks"
Purity Soft Drinks has added two new flavours to its Juiceburst Skinny line up as it looks to appeal to health-conscious consumers. Pink Lemonade and Pomegranate & Blueberry join the existing Peach & Passion Fruit flavour.
Each 400ml bottle contains 99 calories, the company said. The drinks are sweetened with stevia, contain a portion of fruit and are no-added-sugar.
"Health is such a driving factor for consumers at the moment and will continue to determine the category for the next year. At Juiceburst we have been working hard to reduce sugar levels over the past 3 years and now, more than 75% of the Juiceburst range is no added sugar," said Emma Billinge, marketing director at Purity Soft Drinks. "Taste and unusual flavour innovation has also been a key focus for the brand and we work closely with flavour experts to deliver a high quality taste on all our products. Sugar has been removed in stages to help consumers get used to the new, less sugary taste profile."
Stevia is increasingly used by soft drinks producers as they look to find alternatives to sugar. Last month, stevia giant PureCircle announced plans to expand its stevia footprint outside of China with a US$100m investment.
---