West Cork Distillers' The Pogues Irish whiskey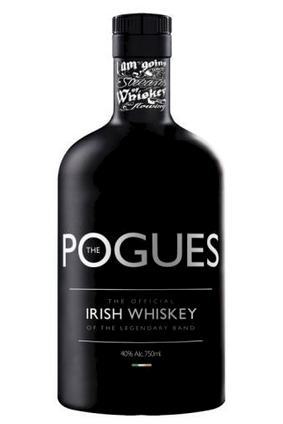 Category - Spirits, whiskey, Irish, 40% abv
Available - From this month
Location - UK, off-trade
Price - RRP of GBP30 (US$47) per 75cl bottle
Distribution - Halewood International
West Cork Distillers has teamed up with Irish folk/pop group The Pogues to create an Irish whiskey of the same name. The liquid is a blend of grain and 50% single malt Irish whiskey.
The company, which is a founder member of the Irish Whiskey Association, plans to expand availability to Europe, Australia, Japan, the US and Canada in the coming months.
Show the press release
---
West Cork Distillers, one of only three independent whiskey distilleries in Ireland, has launched an Irish whiskey inspired by and developed in conjunction with internationally acclaimed band, The Pogues.
A collaboration between two of the world's most renowned distillers, Barry Walsh and Frank McHardy, the whiskey is a blend of grain and 50% single malt Irish whiskey making it Ireland's highest malt-containing blended Irish whiskey.
"We wanted to create an Irish whiskey with global appeal, which isn't without its challenges," says John O'Connell, co-founder of West Cork Distillers. "The Pogues offer a perfect partnership as they share many of the same values as our company such as an independent spirit, a slightly unorthodox approach and a commitment to quality, as well as success on the international stage."
Commenting on the partnership, The Pogues say: "It's been brilliant working with such experts to come up with a whiskey that we all think reflects our spirit and that we all like the taste of. It's wonderful to add to the ranks of great Irish whiskeys and we hope it stands the test of time."
The whiskey has an aroma of malt, cracked nuts, almond and a slight sweetness and its smooth intensity delivers a palate that is malty and floral with a mild chocolate taste and lingering citrus
Created for a younger target audience of 25 to 35 year olds, West Cork Distillers has appointed Halewood International, the UK's largest independent drinks manufacturer and distributor, to take the brand to market in the UK. The distillery is also working with more than 16 partners in places such as Europe, Australia, Japan, USA and Canada to establish The Pogues Irish Whiskey as a global brand.
The whiskey will be sold in the UK for an RRP of £30.
"We are delighted to be working with West Cork Distillers to bring The Pogues Irish Whiskey to the attention of the UK consumer. It is a premium whiskey with excellent quality credentials which we are confident will attract the attention of fans of The Pogues as well as Irish whiskey lovers in general," says Stewart Hainsworth CEO Halewood International Halewood International.
Original source: Company Release
---