Isle of Arran Distillers' The Bothy Quarter Cask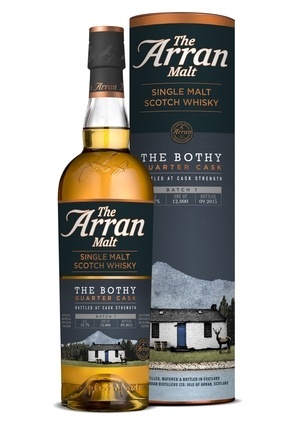 Category - Spirits, whisky, Scotch, single malt, 55.7% abv
Available - From today
Location - Globally, at specialist spirits retailers and online
Price – SRP of GBP54.99 (US$84.92)
Isle of Arran Distillers has lined up the release of a limited edition, no-age statement single malt. The Bothy Quarter Cask contains liquid that has been aged in first-fill ex-Bourbon barrels and then in smaller, American oak casks.
The expressions will be limited to 12,000 units.
In July, privately-held Isle of Arran reported a healthy leap in net profits for the 12 months of 2014, with sales jumping by just over 20%.
Show the press release
---
The award-winning Isle of Arran Distillery has today launched its latest limited edition bottling. Named for the modest dwellings that were common to the highlands and islands, The Bothy Quarter Cask was matured in small barrels reminiscent of those used in the whisky trade in the 18th and 19th centuries.
The multi-vintage Arran Single Malt selected for The Bothy was initially matured in first-fill ex-Bourbon barrels. It was then transferred for secondary maturation into smaller casks, made of the finest American oak.
This process produces far greater contact between the whisky and oak and a faster, more intense maturation. The end result is a full-bodied expression of The Arran Malt.
James MacTaggart, Master Distiller at the distillery said: "The centuries-old history of whisky making on the island is at the heart of everything we do and with this new bottling we've captured those traditions.
"There are only 12,000 bottles available worldwide so we expect this edition to be highly sought-after. The picturesque artwork on the bottle, coupled with a superior dram laden with heritage, makes this a beautiful collector's item as well as a fantastic whisky to drink and savour."
Evoking the scents and colours of autumn, The Bothy has a nose of sandalwood, malty barley and damp oak. A sweet palatte with the Arran character of fresh pineapple, green apples and toasted brioche is enriched with a kick of red chilli. Finishing with refreshing citrus notes, The Bothy delivers all the complexity and richness for which the distillery is well renowned.
Bottled at Natural Cask Strength 55.7% abv, The Bothy Quarter Cask will be available at specialist whisky shops and www.arranwhisky.com from 11am on the 19th October priced at £54.99.
Original source: Company Release
---